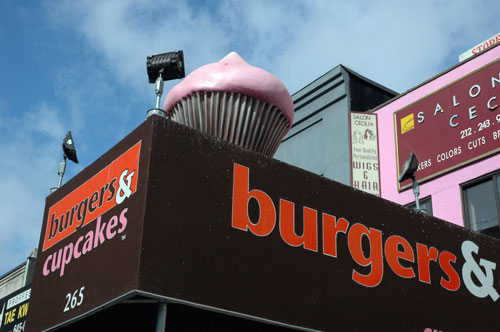 going soon from your neighborhood
The giant, spinning, flood-lit pink cupcake perched above the curb on the top of an advertising canopy on West 23 Street has to be removed within 30 days. The city's Department of Transportation [DOT], which has the authority in these things as the safety guardian of our streets and sidewalks, has found that the owners' original permit for a conventional framed canopy expired in 2003 and that the mechanical structure appended to the awning the restaurant had built after 2003, is itself in violation of city statute.
I call it a victory for the public's common right to the streets. It represents official recognition that there are limits to what a business operating for profit can seize from the people, even if some individual members think a particular encroachment is cute.
I won't try to suggest that another winner here might be a decent respect for aesthetics, because New York bureaucracies are obviously not to be trusted with that kind of protection. What is to be regarded as seemly, or pretty in a huge city? I'm in love with the lively chaos of big metropolis at least as much as any of my neighbors, but New York is not Las Vegas and today's corporate Times Square is not a reasonable model for a neighborhood. A great city must enjoy playing with itself, but it must be allowed to reveal its history and its quieter comforts and beauties as much as its essential energy.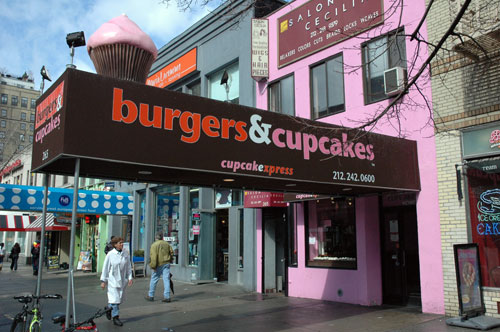 Pepto-Bismol pink



A personal note about Burgers & Cupcakes only partly related to issues of "taste": Even before the giant cupcake appeared late last fall I had thought the aesthetic choices made by this particular food-operation business were rather unwise, if not totally unbelieveable, for business reasons alone: Pepto-Bismol pink and wet-feces brown would not seem to be the obvious choice for a restaurant's advertising sign and interior decor.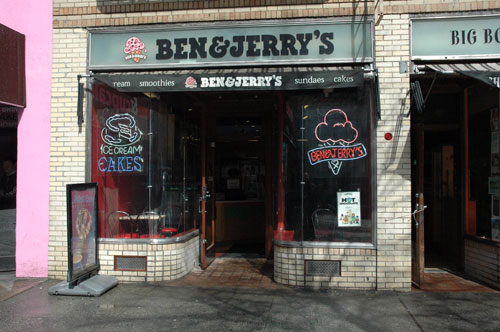 still curved after seventy years
And a note on both the historical and street context of the Pepto-Bismol building: This is one of several two-story "taxpayers" constructed on the site occupied by four early-nineteenth-century brownstones when I moved in next door twenty years ago. The landlord(s) of these once-handsome townhouses (converted eventually into rent-stabilized or rent-controlled apartments, with small stores on the ground floor) had deliberately neglected their upkeep and eventually succeeded in displacing the tenants in anticipation of some speculative boon which apparently never materialized. The buildings were then demolished and the lots left boarded up for a time, until the current structures, thrown together almost overnight with metal sticks, styrofoam and stucco, displaced hundreds of our neighborhood pigeons and untold generations of rats.
Today these jerry-built structures are an exceedingly awkward interruption of the streetscape of the north side of this Chelsea block. On their left is a large and quite handsome art-modern building (still a Woolworth store with a full lunch counter when I moved to the street, but currently a GAP branch, with a gym occupying the areas on the second floor which were originally devoted to professional offices). On the right is a large yellow-brick 1936 art deco apartment house (with eight very neat restored small storefronts on the street level. One of them is occupied by a Ben & Jerry's boasting the original curved glass windows and period metal moldings which can't be duplicated today. There is a restored fully-retractable awning mechanism in a pocket above the windows, and below them there are two reconstructed grilled openings ingeniously devised for ventilating the basement storage area).
This kind of love, intelligent attention, labor and sacrifice devoted here to enhancing the ambience of a cherished neighborhood in a city of eight or nine million people is of an entirely different order from the ignorance and indifference which produced the rotating pink cupcake and the several poor sheds of which it is such a part.



[thanks to Blog Chelsea for helping to keep the pink cupcake issue alive, and to Melanie La Rocca of Chris Quinn's office for doggedly pursuing the DOT about the status of my complaint]