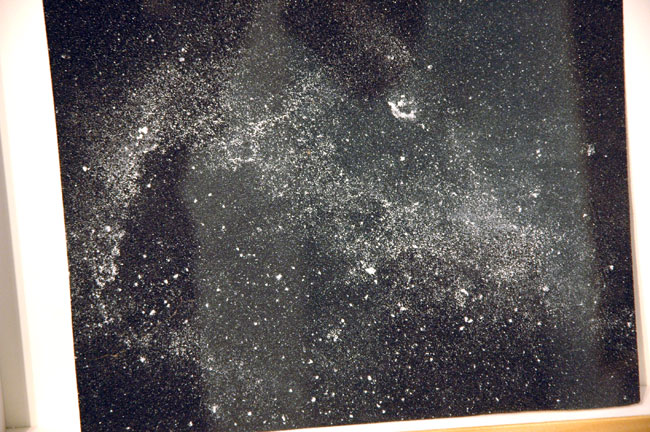 Hany Armanious Wall Rubbing #1 2007 clogged sandpaper 8.5" x 10.5" (12" x 16" framed) [large detail of installation]
Foxy Production showed several small, ethereal drawings by Hany Armanious in their booth at the Armory [large detail of one shown here]. The artist alters simple pieces of black sandpaper (emery paper?) by carefully orchestrating their contact with white wall surfaces. The result resembles a photographic image of a distant galaxy, but with an anomalous textural life inhabiting its surface. Each piece rests near the plexi on the bottom of a deep fillet inside its frame, and then leans back on the mat; they are as much sculptural objects as drawings.
Armanious is currently in a small group show at the gallery, titled "Surface Wave". It opened February 25, but I haven't yet seen what looks like very interesting work from artists new even to this gallery of new artists.