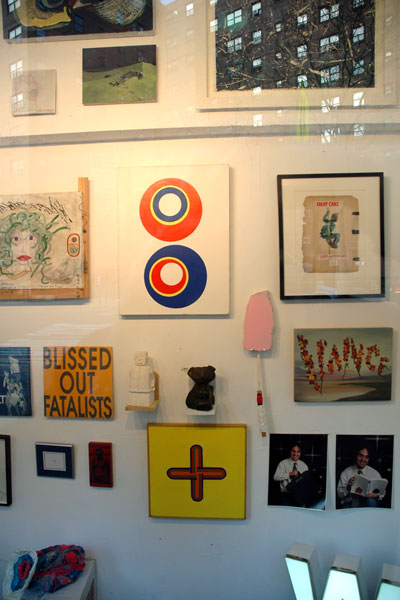 The Kantor/Feuer Window show, "The Art of the Deal", which opened on Saturday may be "The ultimate art show for insiders.", as Art Fag City calls it, but if you do happen to find yourself inside it's actually very funny.
All visitors to the show will in fact be outside, since the "gallery" doors are locked and the exhibiton space itself is the equivalent of a building vestibule. And truthfully, since there are no real big-deal galleries represented by these twenty or so gallerists, this particular insiderdom is still a pretty comfortable neighborhood.
From the press release of artist/curators Justin Lieberman and Lumi Tan:
"The Art of the Deal" is an Artist-curated exhibition of early works by well known gallerists who once sought their calling on the other side of the table as artists. Far from the cynical venture it might at first appear to be, this show presents the idea of creative production as an egalitarian venture open to all who would choose to embark on it, regardless of their vocation.
My favorite piece, at least as seen from five feet away through reflecting glass, may be (
Sunday
gallery) C. Sean Horton's pink popsicle-like sculpture in the center of this capture.
The complete list of the artists/gallerists who will be hanging together on 10th Avenue until May 11, are:
Roland Augustine (Luhring Augustine), William Brady (ATM Gallery), Elizabeth Burke(Clementine), John Cheim (Cheim and Read), Burr Dodd (Brooklyn Fireproof), Derek Eller (Derek Eller Gallery), Zach Feuer (Zach Feuer Gallery), Jane Hait (Wallspace), Sean Horton (Sunday), David Kordansky (David Kordansky Gallery),Nick Lawrence (Freight + Volume), Philip Martin (Cherry and Martin), Sheri Pasquarella (SLP Art Culture Commerce), Jeff Poe (Blum and Poe), Andrea Pollan (Curator's Office) Becky Smith (Bellwether), Fred Snitzer (Fredric Snitzer Gallery). Kelly Taxter (Taxter and Spengemann), Elisabeth Wingate (independent consultant), Mike Weiss (Mike Weiss Gallery) and Scott Zieher (ZieherSmith)
Incidentally, this is the only show in Chelsea which can be seen 24 hours a day, seven days a week.