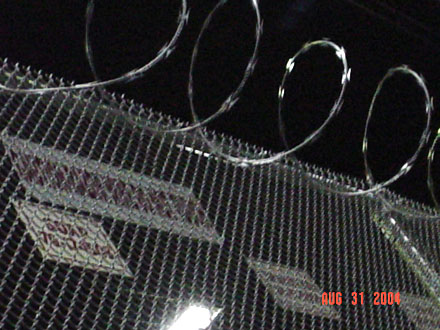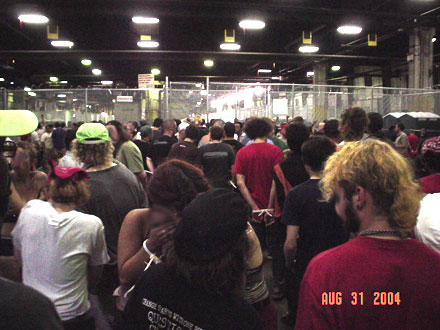 "keeping control" (wire and flesh, inside a holding pen during the 2004 RNC)
No, Chris, in America the police are not supposed to write the laws and "control" demonstrations.
Yesterday morning on the Brian Lehrer show NY City Council Speaker Christine Quinn responded to a question from the host about her support of new NYPD regulations on "parade permitting". The regulations dramatically restrict the public's Constitutional rights of speech and assembly.
The NYPD will now require a permit for any public gathering, or "parade", of 50 people or more. Section 1A of the city ruling defines a parade as "any march, motorcade, caravan, promenade, foot, or bicycle race, or similar event of any kind, procession or race which consists of a recognizable group of 50 or more pedestrians, vehicles, bicycles, or other devices move by human power, or ridden or herded animals proceeding together upon any public street or roadway."
On the Lehrer show Quinn stated emphatically that she believes the new regulations are "fair and appropriate" and "allow people to express their First Amendment rights", but it is clear to anyone concerned with exercising these rights that the police get to decide how and when and with whom they may do it.
I was shocked to hear the Speaker's concluding expression of support for our uniformed enforcers: She stated that the police must have the ability to "keep control of situations" [my emphasis].
I've known Quinn for many years and I have spoken and written highly of her in the past, and I expect to be able to do so in the future, but it is clear to me that on this extremely important issue Quinn is just wrong. She really has "turned her back on civil rights", in the words of The Radical Homosexual Agenda [RHA], the organizers of a demonstration at City Hall tomorrow afternoon at 4 o'clock.
Of course this is not about queers alone; political activists and alternative transportation advocates have been impacted by NYC police attitudes in the most dramatic manner in recent years, but the issue belongs to everyone who wishes to breathe free. The Council Speaker is an out lesbian with a background of community oranization and a family history of activism who has participated in demonstrations herself; she should know better.
The demonstration is certain to include more than 50 people. Not surprisingly, there will be no permit.
Almost certainly the most important event in New York this week, the "Parade Without a Permit", will take place at City Hall tomorrow, Thursday, at 4 pm.
[images from indymedia, by anonymous, and included in my September 3, 2004 entry]