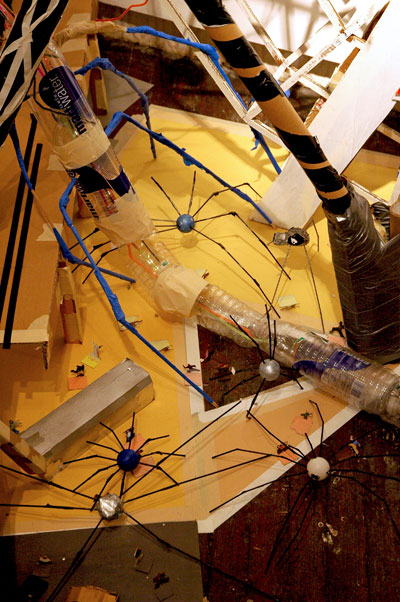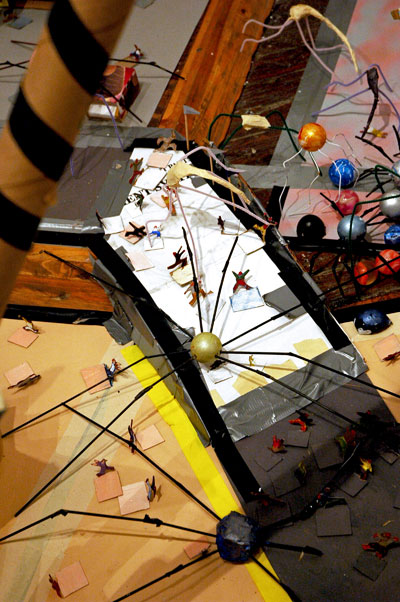 Mark Stillwell Super Defense Force [two details of the installation]
The current show at Front Room, Mark Stillwell's "Super Defense Force", seems like a perfect fit for the post 9/11 U.S. mindset. The theme runs something like terror as escapism (incorporating "escape" in every sense), except that the diorama inside the Williamsburg gallery space is both comical and thought-provoking; there is no comedy and no thinking inside the continuing fantasy world of "the war on terror".
The gallery describes the installation, which marks the artist's first solo show in its Williamsburg space, in this excerpt from the press release:
Stillwell, known for his room-sized installations of urban landscapes under figurative and literal siege, converts the gallery into an overwhelming cityscape installation overrun by gargantuan monsters. Stillwell uses painted and reclaimed packaging, byproducts of the over-consuming society he portrays, in this scene of terror. Crowds of paper cut-out citizens run screaming from the devastation and hostile creatures that are overtaking the city.

. . . . The Coney Island-like setting in "The Super Defense Force" is used to contrast apocalyptic anxieties, militarism, and the proliferation of luxury condos against a backdrop of carnival escapism.
On the gallery
site
itself there are a number of more helpful and seductive still images, and a video with a moving, monster's-eye view of the set.