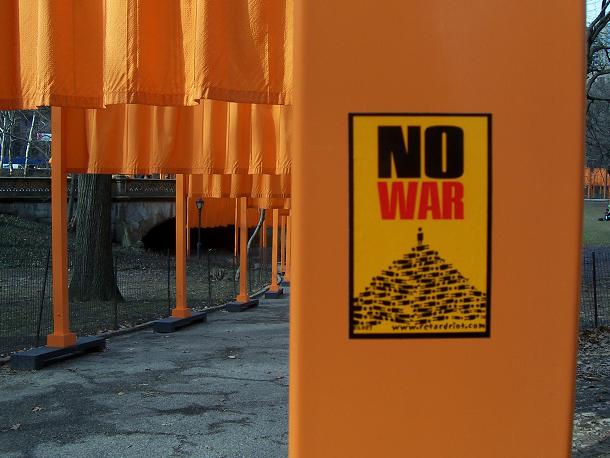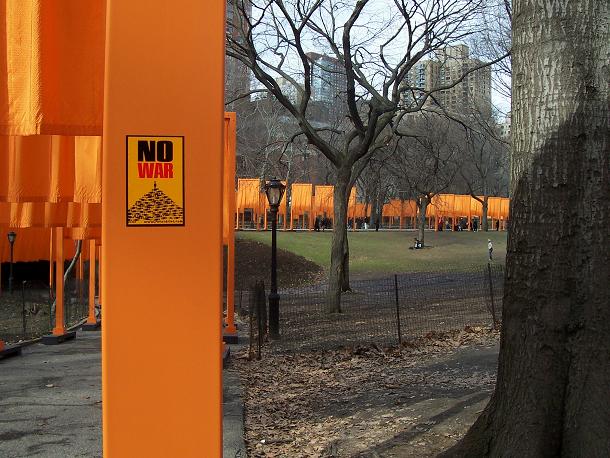 the "politicization" of the gates!
Many thanks to Noah Lyon for giving me the opportunity of pulling together my last two posts about art and politics (and maybe a good many more of these blogs, going back almost three years) with an email to which these photos were attached. The elegant sticker in the pictures is Noah's art, and my caption is taken straight from his message. Of course none of us knows much about the specifics of this particular "politicization" operation.
Incidently, for those who might be disturbed by the negativity of some of their critics, remember that we're still all part of their art, according to Christo and Jeanne-Claude, even when we quibble about or shout at The Gates.* It's such a burden.
| | |
| --- | --- |
| * | "The work is not only the fabric, the steel poles, and the fence. The art project is right now, here. Everybody here is part of the work. If they want it, if they donÂ't want it, either way they are a part of the work… I believe very strongly that twentieth century art is not a single, individualistic experience." - Christo |
[the images from Michael Carreira via Noah Lyon]