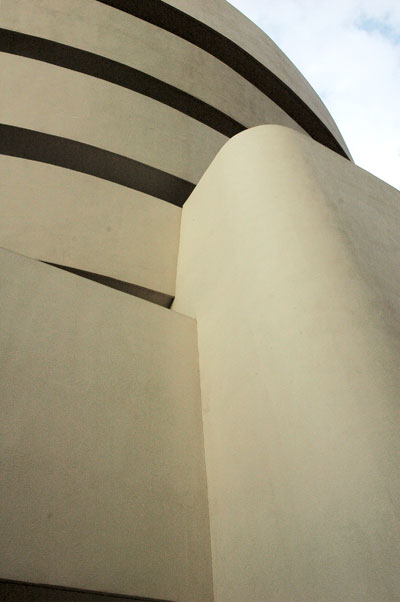 color: it only looked really white in bright sun; when we left at 6 it actually was more of an eggshell
Barry and I almost missed another show which we had decided long before was a must-see. But yesterday we headed for the Guggenheim, where the newly-restored museum's fascinating exhibit, "Frank Lloyd Wright: From Within Outward", closes tomorrow, Sunday.
The show is part of the Guggenheim's celebration of the 50th anniversary of its landmark Frank Lloyd Wright-designed building, whose exterior renovation was completed last year.
I've been a fan of Wright's almost from the moment Hilla Rebay and Solomon Guggenheim first approached the great man to design a permanent home for the Museum in 1943. I'm pretty familiar with his work, and not blind to his inadequacies (or those of the Guggenheim: "The Art of the Motorcycle"?), but I was often surprised by what I learned from the materials assembled for the show, and my criticisms of certain of Wright's obsessions have been somewhat blunted after my progress down the Guggenheim's ramp. Yes, we took the elevator up and walked down the ramp, which is how I always experience this museum (and what I understand Wright himself thought was the proper approach), even though we soon realized this exhibit is clearly arranged, chronologically, to suggest a progress up from the bottom.
I go back and forth on which of Wright's work excites me more, the private houses or the public designs. Although it actually doesn't really matter, even to me, this handsome retrospective didn't resolve my ambivalence. Until we got down to the second-level annex we saw not one house design. While I was very much aware of this, and mentioned it to Barry, for almost two hours I was pretty much lost inside the grand schemes of his larger projects (which I was happy to be reminded had actually included apartment houses). Then we were suddenly looking again at the brilliance - and the variety - of his plans, over seven decades, for single-family dwellings - some specifically designed for pretty modest budgets.
My favorite new discovery within this part of the exhibition was the beautiful small unattached house which was a part of the architect's "American Ready-Cut Houses" project. It was represented by a pencil drawing on a single sheet of paper of an elevation and plans for two floors of what Wright described as "small town house - plastered 1912-1913". There seemed to be another (half?) floor below the first, which had a sun room and a small balcony, and a roof terrace above the second, bedroom floor. Lovely.
Thinking now about Wright's sketched plan for the first floor, which included furniture outlines, I'm reminded of how here and in most of his other living room plans, even though there's an eating area off of the kitchen, a handsome collection of table and chairs dominates the floor area of the room, unless the client can afford a particularly large living space. Our own apartment has a conventional living room arrangement, and we're lucky to have a dining gallery as well, but I think that I would be quite content with entertaining people sitting around a dining-height table. There food, drink and anything else which could be spread out might be shared along with the conversation. I could pretty much do without a lounge area altogether. It's very much how we live now, whether we have guests or not.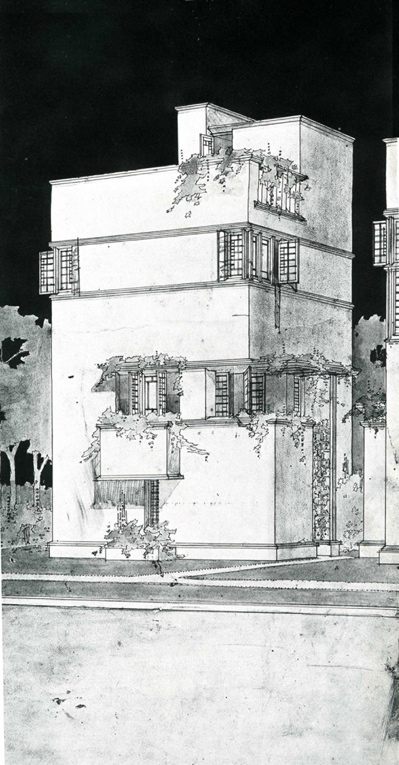 elegantly sufficient, sufficiently elegant still today
The visit would have been worth the trek uptown on a sweltering day, the long line, and the cost of the tickets, just for the look into a few of Wright's more iconic designs alone. For me the most amazing, and melancholy, almost-discovery was his huge body of work devoted in 1957 to "The Plan for Greater Baghdad", intended for an undeveloped island in the middle of the Tigris and of the city, sadly, unbuilt of course.
Although there are plenty of other candidates for an appreciation of his genius, I'm thinking especially of the 1913-1922 Imperial Hotel, and of course The Illinois of 1959 (unbuilt), Wright's magnificent, plant-like, utopian (he would probably eschew "visionary", since he believed it was totally practical) skypenetrator which has captivated me for half a century:

I swear I saw gold leaf near the very top, probably intended to show the sun blessing the hero's tower
Did I mention the line? We were both aghast at the appearance of the ground floor lobby when we first walked into the museum. It was Friday, a weekday, and the time was 2:45:

at least there's no door person at the end, ready with a thumbs down if your look's not up to snuff
These people are slowly advancing between row after row of ropes in order to get to the desk to pay for admission ($18, students and seniors $15, or order on line for a little more). It took us a full half hour to get to the head of the line, although this being New York there was good humor and a certain amount of eye candy for entertainment while we shuffled back and forth.
[image of "The Illinois" from the website of Rich Hilliard; that of "a small town house" from savewright.org]