[unless it helps the White House - or the NYTimes]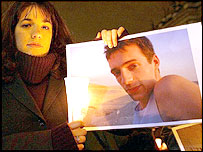 Sophie Hurndall, Tom Hurndall's sister: ". . . but there are thousands of cases out there where people don't have the weight behind them that we have."
UPDATE:
In Britain the media is interested in the Battle of Trafalgar and Tom Hurndall, even though both are dead. We get runaway brides and the ten commandments on a lawn. If you live in the right place once in a while you get a peek at a real story, but only a peek and only on terms supported by a larger agenda.
Lest anyone think that the nationality of the victim is key to the quality of justice extended or press coverage provided, the story of the very American Rachel Corrie is more than a caution. Oh, and she and her family were just as photogenic, just as white, just as blond as the Hurndalls. The usual popularity of the type is familiar to everyone in America; viz. the description of the ubiquitous missing children and young women in never-ending reports on the pretend-news programs of CNN and Fox. Sometimes war and politics trumps everday racism, even in America.
In a tiny article [scroll down] on page 8 today, the NYTimes reports that the Israeli soldier who killed Tom Hurndall two years ago has been found guilty by a military court.
For more, see this BBC story for a description of the crime, and this one for a bit on the trial itself.
The defendant was led out of the court in handcuffs and tried to attack a number of photographers and cameramen filming him.

More than 50 people crowded into the small courtroom on a military base in southern Israel, to hear the verdict - which took more than an hour to read out.

In addition to the manslaughter verdict, [Taysir] Hayb was found guilty of obstruction of justice, incitement to false testimony, false testimony and improper conduct.

The court was told Hayb fired at Mr Hurndall from an Israeli army watchtower, using a sniper rifle with a telescopic sight.

Witnesses said Mr Hurndall, from north London, had been escorting children away from gunfire when he was hit in the head by a single shot.

The Israeli army initially disputed this account, but under pressure from Mr Hurndall's family and the British government it ordered a full investigation. It later indicted Hayb, a member of Israel's Bedouin Arab minority [my italics].
The identity of the defendent serves to further dramatize the story as both a personal tragedy and as representative of the much larger human disaster fed by the U.S.-supported Israeli government occupation policy, the incompetence of Palestinian leadership, and the silence of good people everywhere.
[image from BBC News]