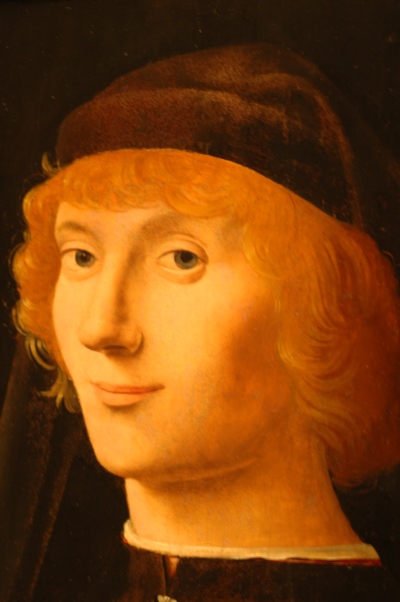 Antonello da Messina Portrait of a Young Man ca. 1470 oil on panel 10.5" x 8.25"
Yes I saw the Fra Angelico show at the Met, but I try to keep this blog focused on what Barry and I like to call "underknown" artists [the still increasingly popular adjective "emerging" is too narrow a word to describe my attraction to the new as well as the obscure in all the arts].
For me the real excitement of my day on the edge of Central Park was a tiny temporary exhibition of work by the Sicilian Quatrocento painter Antonello da Messina (ca. 1430–1479). It's a very small, jewel-box of a show which fits into a single dark cube of a room on the second floor of the European Paintings Galleries.
Although I've included his beautiful image of the Virgin at the bottom, a piece which the Met notes would have as the highlight of the installation, it was really da Messina's almost-embarassingly profane portraits of young Italian noblemen that impressed me most.
The image at the top is by da Messina, but the one just below, like several other works included in the show as somehow relevant to his story, is actually by a different artist. It seems that Jacometto Veneziano also knew how to render a handsome face.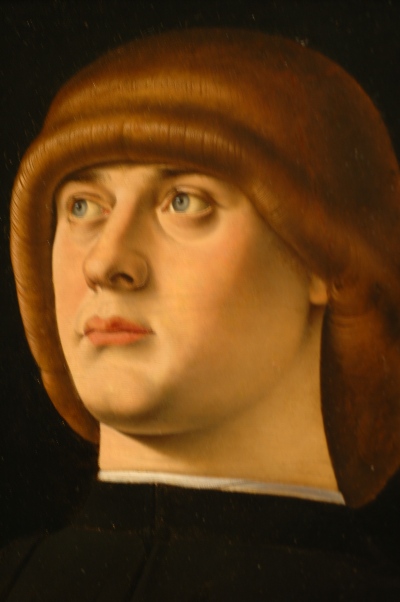 Jacometto (Jacometto Veneziano) Portrait of a Young Man ca. 1470 oil on panel 10.5" x 8.25"
I wish the curators had managed to include either or both of these two handsome da Messina portraits in the show, even if it would have meant sacrificing some of its didacticism.


Antonello da Messina Portrait of a Man ca. 1475 oil on panel 14.25" x 9.75"


Antonello da Messina Portrait of a Man (Il Condottiere) 1475 oil on wood 13.75" x 15"
Oh yes, the show does include a very, very sad Ecce Homo portraying an extremely vulnerable (and approachable) Christ which is unlike anything else produced by the Renaissance.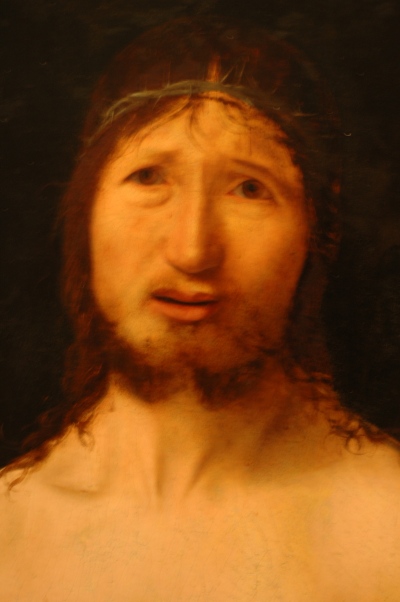 Antonello da Messina Christ Crowned with Thorns possibly 1470 oil, perhaps over tempera, on wood 16.75" x 12" [large detail]
At first I thought da Messina's homoeroticism was all in my own head. But when I was home and able to look at the images again, and when more beautiful youths turned up in a quick Google search, I became convinced that the artist really loved men. The revelation was nearly as exciting as the moment several years ago when I came across, on an obscure pedestal behind the Met grand staircase, a 1st century Roman silver cup with reliefs of two men enjoying themselves in scenes of exceeding profanity. There was no curator's note on the homo thing at that time either.
But of course there was plenty here on the Virgin.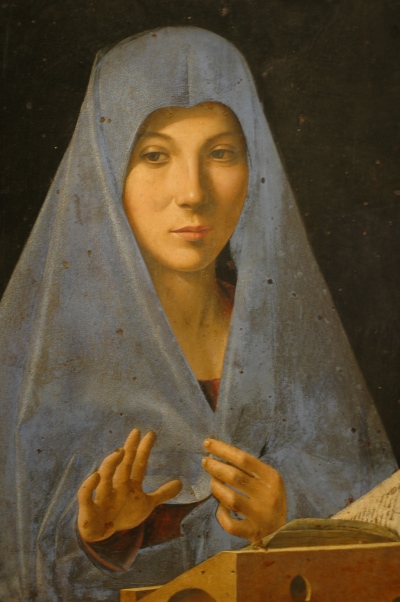 Antonello da Messina Virgin Annunciate ca. 1476 oil on panel 13.5" x 17.75" [large detail]
[the two thumbnail images are from Web Gallery of Art]