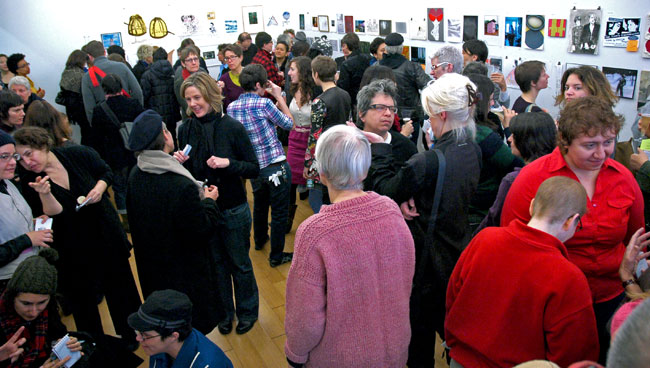 a shot of the crowd before the room filled up yesterday, from a camera held high overhead, feeling the power, and documenting all the super Lesbians, and some very enthusiastic friends and supporters
The entire event was run incredibly well, as efficiently and perhaps more efficiently than many benefits organized by non-profits that have been doing it for years. And we've seen a lot. Barry and I had a blast at yesterday's first ever art benefit for the Lesbian Herstory Archives [LHA], held at the gallery of Alexander Gray Associates.
As the snow began shortly after midday, we were gathered with a lot of other people, many of them friends, many of them heroes known only from a distance, some soon to become friends. We were ten floors above the Hudson River in west Chelsea, and all we had to do was enjoy ourselves; the real champagne; the delicate cookies and savories; emcees Moe Angelos, milDRED, the artist formerly known as DRED, and Kay Turner; the work mounted on the walls; and above all the tonic of a wonderful crowd.
Oh well, we did have to wait a while for our name to be drawn, when we would be able to announce our choice of the art, but the selection was so good there was little reason for anxiety and virtually no chance that anyone would be disappointed.
But a lot of people were saddened to learn that the 80-some tickets for 80-some pieces of art had been sold out early. Many of those couldn't come, and others did come by for the excitement, and to contribute directly to the endowment fund; maybe the LHA should rent an entire armory for their second art benefit.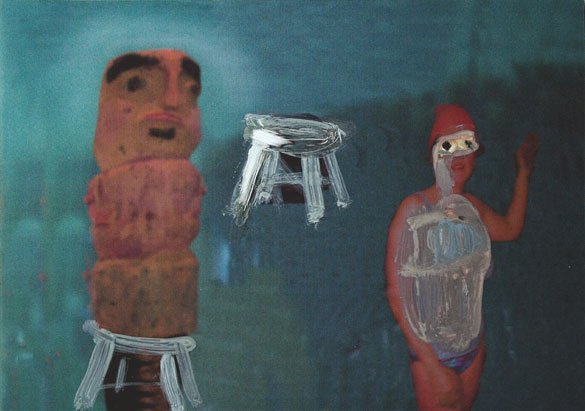 Elizabeth Bonaventura Untitled, or 2010 Olympic Hopefuls casein paint on inkjet print 2009 8.5" x 11"
We went home with the beautiful paint-on-photograph piece by Lizzie Bonaventura [no link or website] shown above, and we were able to talk to the artist and exchange contact information even before we had a chance to pick her work.