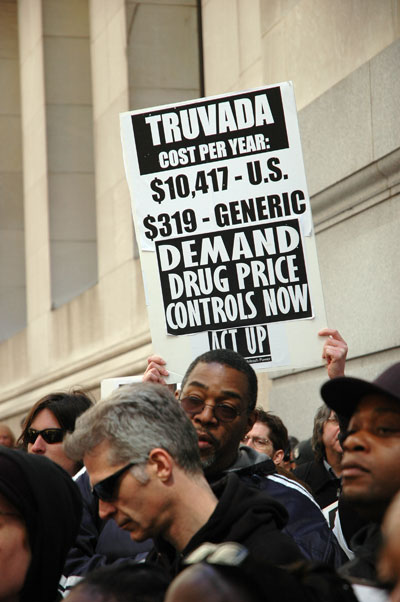 across from the Stock Exchange yesterday
If yesterday's ACT UP twentieth-anniversary action demonstrated anything, it was the coalition's own renewal, and its transformation from an AIDS activist group once largely made up of young middle-class queer white males into one devoted to the this country's larger, evolving healthcare crisis and composed of a much broader community of people who have realized we are all directly affected by both AIDS and a medical system completely inadequate to address it or other health needs.
In New York yesterday every age group and every community in this hugely-diverse city appeared to be represented in the crowd which gathered in and around the Wall Street area. They hurled chants at a powerful corporate medical, insurance and political establishment, reached out in conversations to regular passersby, they brandished both printed and hand-lettered signs addressing an aloof, fortress-minded establishment, and they carried or dragged with them some 50 bulky black body-bag props as they wound through the narrow downtown streets in a band of roughly a thousand souls. At the site of the bull statue near Bowling Green some 30 people were arrested for civil disobedience while lying down in the street amongst those bags.
The NYTimes did not consider the event worthy of a single word or image. See See Andy Humm in Gay City News for the best account of the day.
The new ACT UP appears determined to be only the nucleus [or perhaps, this still being ACT UP, really only the trigger] for re-igniting an enormous popular movement, coinciding with the run-up to the 2008 election, directed toward finally securing this nation's adoption of a single-payer healthcare system after something like one hundred years of broken dreams and promises.
What follows are a few scenes from the struggle as renewed just yesterday.