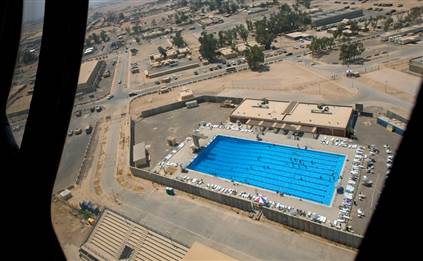 swimming on our aircraft carrier in the desert
Not many people will get to read my post or the original The Nation article available only in the print edition, but maybe a color image and the accompanying story from MSNBC will stir up some dust in the American political desert.
The huge base we're constructing on the sight of the former Iraqi Air Force academy at Balad is one of a handful of similar imperial projects being installed inside a prostrate Iraq. No wonder we haven't had the time or money or men to help the Iraqis. Also, none of these installations have anything to do with fighting an insurgency or preventing or reducing the severity of a civil war.
Away from the flight lines, among traffic jams and freshly planted palms, life improves on 14-square-mile Balad for its estimated 25,000 personnel, including several thousand American and other civilians.

They've inherited an Olympic-sized pool and a chandeliered cinema from the Iraqis. They can order their favorite Baskin-Robbins flavor at ice cream counters in five dining halls, and cut-rate Fords, Chevys or Harley-Davidsons, for delivery at home, at a PX-run "dealership." On one recent evening, not far from a big 24-hour gym, airmen hustled up and down two full-length, lighted outdoor basketball courts as F-16 fighters thundered home overhead.

"Balad's a fantastic base," Brig. Gen. Frank Gorenc, the Air Force's tactical commander in Iraq, said in an interview at his headquarters here [today's MSNBC dateline: "BALAD AIR BASE, Iraq"].

. . . .

In the counterinsurgency fight, Balad's central location enables strike aircraft to reach targets in minutes. And in the broader context of reinforcing the U.S. presence in the oil-rich Mideast, Iraq bases are preferable to aircraft carriers in the Persian Gulf, said a longtime defense analyst.

"Carriers don't have the punch," said Gordon Adams of Washington's George Washington University. "There's a huge advantage to land-based infrastructure. At the level of strategy it makes total sense to have Iraq bases."
Both the White House and the Pentagon have basically denied everything which suggests a long-term or permanent status for these installations.
The AP image at the top is dated Aug. 25, 2005. Our press, which has apparently had every opportunity to see the truth for itself, has basically and characteristically cooperated in the deceit - at least until now.
[image by Jacob Silberberg from the AP via MSNBC]