[revised June 26 with additional information]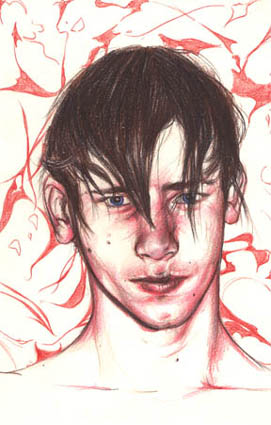 I can't believe I hadn't yet posted anything on a wonderful artist very new to New York, who is opening a one-man show tonight at Daniel Reich.
Disclaimer: We bought three of Paul P.'s works from Daniel's last, wonderfully-over-the-top show, "Karaoke Death Machine," one painting and two images in colored pencil on paper. They are a treasure.
Even as they were effectively mounted as only a part of the magical collage-of-the-whole which composed that show, Paul's pictures, the pink boys and vases of flowers, stood out for their purity and energy - and beauty. In fact they are together the survivors of two plagues. The boys are innocent faces drawn from pre-AIDS porn, the flower arrangements pay homage to Manet's last works, those in which he delighted while dying of syphilis. The title of the show at Daniel Reich is "Paul P. Last Flowers."
The lines of the pencil images float, like delicate etchings, softly colored, on tissue. Tonight's opening should be dynamite, and that's without accounting for the crowd, which should be worth a run-through for its own beauty and its frisson!
Toronto-based, Paul has shown work in Toronto, Stratford, Winnipeg, Santa Monica and on the othergallery, a web-based nomadic gallery that, like its Winnipeg home gallery, focuses on Contemorary Canadian Art. [Who knew that Winnipeg was in Scotland? Listen to the delightful accents of several of the people interviewed in the CBC story.]
Daniel Reich is located at 308 West 21st Street, 2A, New York. The show continues until July.
Oh, has anyone else noticed how hot Canada is these days - at least here in New York?