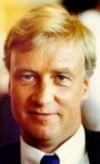 Ole von Beust
Rex Wochner reported two days ago:
The mayor of Hamburg, Germany, Ole von Beust, came out Aug. 19 after firing the city-state's interior minister, Ronald Schill, for allegedly trying to blackmail him.

. . . .

Von Beust's coming out means Germany's two biggest cities now have openly gay mayors. Berlin Mayor Klaus Wowereit also is gay.


Klaus Wowereit
[photo of Beust from Landesseniorenbereit Hamburg/ photo of Wolvereit from Der Bundesrat]