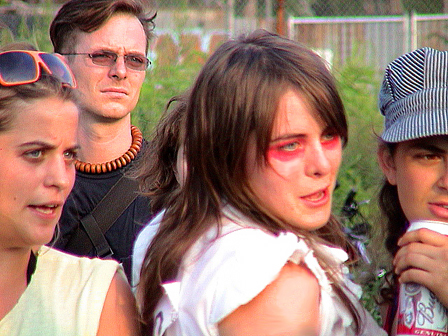 photo by Basil Bernstat

The pix keep coming in. This wonderful image of several competitors [Amy in the center] is from the C.H.U.N.K. 666 site itself.
The picture gives some idea of just how hot the Chunkathalon afternoon really was.
__________________
Go here for the Free Williamsburg story on the Chunkathalon.
Brooklyn still offers a few places where you can have good, clean fun away from the prying eyes of those who would seek to prevent it (hence, stickball). One of those places is a fenced-in patch of condemned state property abutting the East River in Williamsburg. If you walk down the last desolate trash-strewn block of North 7th St. to where it ends at the disused MTA power station, you'll find-so long as no cops are camped out and you're not put off by the No Trespassing signs or the occasional burned-out car- a ratty park that offers one of the most blessedly intimate river views of Manhattan. On any given day there, Williamsburg's skateboarders and bikers can be found doing tricks on a concrete expanse about the size of football field that rises about five feet above the weeds and crabgrass (a refrigerator offers a leg up). It was here, on the last Saturday of July, that Chunkathon 2003 went down.