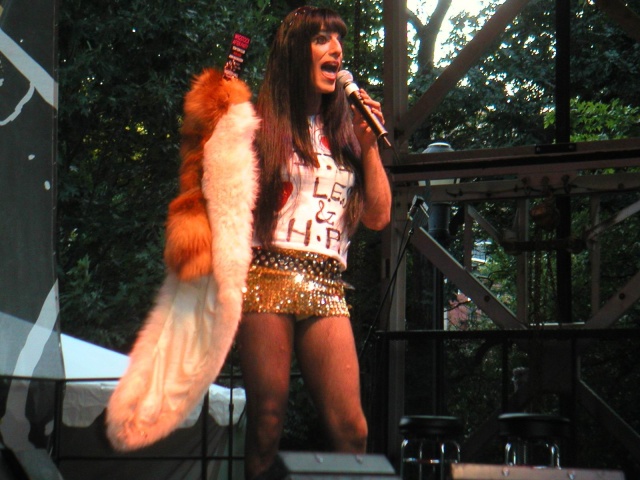 TABBOO!

On Saturday my Wigstock experience began on a sour note, and it had nothing to do with wigs. As Barry and I were about to cross Avenue A at 8th Street I spotted a small, dedicated contingent from ACT UP with their table of literature on the sidewalk. They had been thrown out of Tompkins Square Park by the HOWL! Festival organizers because they had not paid a concession fee.
ACT UP doesn't pay concession fees, and ACT UP has always been a part of Wigstock. [In the interest of complete disclosure I must say that I have been a member of ACT UP almost since its beginnings, but in recent years I have been more neglectful than supportive.] I understand the costs of the festival have to be met somehow, but I also understand that, at least the last time I checked, Tompkins Square is a public park. Surely something could have been arranged for the inclusion of genuine public service organizations in a celebration of the creative and radical tradition of the East Village.
Now feeling a little like contraband myself after hearing of their experience with the authorities, we entered the park which had once been a very major civic battleground.
Wigstock's return to the park where it was first conceived (and delivered) 18 years ago by a gaggle of not-so-mad drag queens was of course wonderful - with at least one, no two or even more, reservations. The Lady Bunny emceed of course, operating in the customary, tired bitchy form she shares with too many of her sisters, and significantly she had even managed to sorta witches-kiss and make up with Mistress Formica in consideration of this momentous occasion. But where were the new artists? The question could, and should well, be asked of the entire HOWL! enterprise.
The Dazzle Dancers wound up the afternoon's program with a spectacular salute to the ultimate irrelevance of costume as a quantity – except of course for the glitter, which they generously shared with the first hundred feet of the fans packed around the stage.
I was sorry to see that in spite of the good vibe among those in the bois propre below the latest Wigstock incarnation had attracted far less spectator hair, makeup and costume involvement than those of legend, and yet I have to admit that I didn't wear my wired golden pigtails this year myself.
The tiny ATM Gallery on Avenue B (yes, it's behind the ATM machine), just north of the park, was showing what was billed as the "First Annual HOWL! Invitational" through late Sunday. Just inside the door on the right in this group show were Chris Tanner's three colorful works on fabric with built-up patterns which suggested chenille bedspreads gone mad. They were pretty wonderful.
The Festival's community-driven "Art Wall" around much of the park was, not surprisingly, very political, and some of its statements managed to ignite tempers, arguably a good thing even for a festival. Much of it had something to do with Bush, Israel, police states, etc., and we can report with satisfaction that Michael Stewart has not been forgotten.
The East Village today is not your father's East Village, and ironically the best evidence of that may have been the strong presence of child-friendly elements in the HOWL! Festival schedule.
Local color to straddle the two generations: At 8pm Saturday night, while we were walking about the neighborhood, we passed a barely-30-something mother and her young 7-something son out "walking" their house pets. The mother was pushing a folding grocery cart which supported a gold fish in a stormy bowl of water on its lower shelf and a hamster merrily racing on its treadmill in a cage on the upper.
As darkness replaced twilight, we slipped into the Sixth Street and Avenue B Garden for a few minutes to walk through the green stuff and to listen to the music of Mr. Raga's Neighborhood players (a very nice ECM-ish ambience).
As we started to go out I realized the beautiful tree we had been standing under was a perfectly healthy and fructiferous fig, something I am still not accustomed to, having lived most of my life in northern temperate zones. Do the magnificent branches and the perfectly-formed fruits reveal gardening care or betray global warming?
We managed to find a table at Raga on 6th Street for a leisurely dinner, followed by a slow walk home.
The next afternoon we returned to the same scenes to meet our friend Kate, who is visiting from Antwerp for a few weeks. We went back to the ATM Gallery, which was just then cleaning out the bottles from what appeared to have been a very successful opening party the night before. We talked to Bill Brady, the delightful artist behind the space, and we easily became somewhat enchanted with his very adventurous curatorial choices.
Aside from the work of Chris Tanner, the show, which was created especially for the HOWL! Festival, included UFO-imaged work by Ionel Talpazan, the geometric devices of Vince Roark, the sweet/scary world of Min Kim, the graphite Altamont of Mike Paré, Karen Finley's efficient, Titian-esque nudes, and her menstrual blood flower drawings, the delicate collage-drawings of Yuh-Shioh Wong, Jack Davidson's cloud landscapes which were oil paintings passing as cottoncandy pastels, David Leslie's wonderful soap sculpture of a not-quite-successful Evel Knievel outing, and Bill Brady curating himself with an exciting, strangely iconic, somehow-non-objective, neo-op oil in very primary colors.
We lingered at the music lot on Avenue A and 11th Street for a bit, unfortunately missing the magnificent John Moran but very pleased and provoked by Rebecca Moore and her band, Prevention of Blindness. We bought her CD. We already owned all of the recordings of John's operas spread out on the table next to it, and a good thing, too.
Passing through the willow tree oasis of La Plaza Cultural Garden we hung out for a few songs by a wonderful [unfortunately unidentified to us] performer who was part of the WOW Café Cabaret, before we had to leave to call our friend Anees to settle on a time and place for dinner, always the day's paramount event for the both of us.
We now four soon found ourselves at Gnocco on 10th Street, in their beautiful back garden sheltered by Trumpet Vines and heating ductwork ready for the winter. Anees had arrived bearing gifts from Palestine, two keffiyahs and a beautiful CD of a young Palestinian oud player, Samir Jubran.
And so, after another hike home to the northwest, to bed.