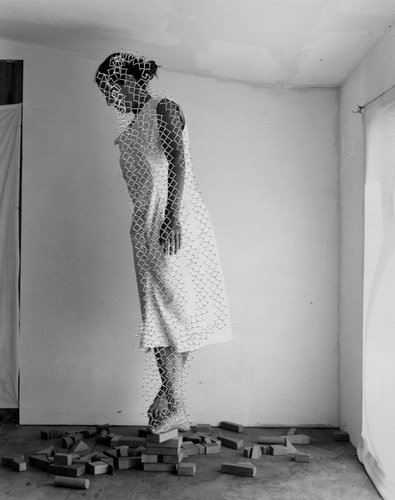 Meighan Gale, untitled, 2002, stitching on silver gelatin print, 8x10, in the A.R.T. Benefit sale September 4

I sent an email announcement a few days ago to parsiminous or impoverished friends and acquaintances with fabulous taste and who I thought would be interested in acquiring good art cheap while benefiting a wonderful non-profit institution.
I realize that my friends and acquaintances may not be the only ones answering that description, so I'm now casting the information on a much broader scale.
Art Resources Transfer is having a benefit art sale, and it's of that wonderful sort called, "affordable." Be you a collector? Be a collector now.
I understand there are well over a hundred works available, including many of A.R.T.'s own magnificent iris prints. Most of the art is already displayed on the walls and counters of the gallery space on 11th Avenue between 24th and 25th Streets.
I can try to answer any questions you might have about the benefit or the programs of A.R.T., especially since Barry and I know many of the artists who have donated work, and I'm a member of the Board. Alternatively, you can call the number indicated in the A.R.T. announcement below.
END OF THE SUMMER BENEFIT

Art Resources Transfer, Inc. aka A.R.T. Press, founded in 1987, is a non-profit organization committed to documenting and supporting artists' voices and work, and to make these voices accessible to the public beyond conventional art spaces and outlets by establishing innovative methods of distribution and access.

After 360 exhibitions in 7 years, Art Resources Transfer, has decided to suspend its exhibition program Dec. 31, 2003, in order to better direct its energies to the many highly-respected publishing projects and it's hugely succesful Distribution to Underserved Communities Program, (DUC).

To celebrate this and facilitate the transition to a smaller space, A.R.T. is having an END OF THE SUMMER BENEFIT.

Thursday, September 4, from 7 to 9 pm

Over 100 artists have contributed works in all mediums. The pieces, which are valued between $250 and $750, will be on sale for $100 to $250.

The artwork will be on view at the gallery from today, September 2, until the beginning of the sale on Thursday.

The address is 210 11th Avenue, between 24th and 25th Streets, suite 403.

For information, call 212-691-5956