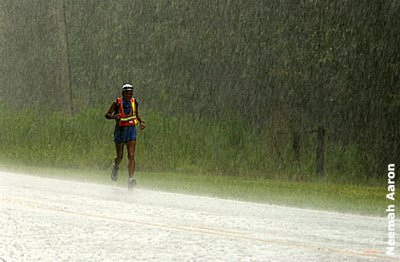 Reza in North Carolina, in the rain
Reza is in Newark today, and will be crossing the George Washington Bridge Thursday morning before running down the island to the World Trade Center site - where he has been told he is not welcome. I suspect that, like all decent people, he wouldn't want to be around Dick Cheney anyway. Still, it seems a real shame.
This is from the email I received from Dave Hyslop, who is travelling with Reza:
On Thursday, Sep. 11th we will begin on the Jersey side of the bridge at 8:00 am. Anyone wishing to join Reza (the more the merrier) need only show up.

We'd like to cross the bridge and head down Broadway all the way to Ground Zero. Some have suggested the mix-use trail that runs along the Hudson River (I'd be open to anyone's comments on that plan).

Access permitting Reza would like to get as close to the Ground Zero site as possible. We had requested from Mayor Bloomberg's office that Reza be allowed to run into the ceremony, present a bouquet of flowers, pay his respects and then run out but were told that while Reza's efforts were certainly commendable, surely we could see that this wouldn't be appropriate at a ceremony like this.).

How many Middle Eastern people died that day?

Reza will have a private momemnt at Ground Zero and then run to Battery Park where there will be a reception at 11:30 AM to 12:30 PM (one hour) in the "Verrazzano Basque" section of the park. I'm told this is located between the "Castle Clinton Monument" and "East Coast Memorial."
Reza has been accompanied by an orphaned, affectionate black dog since Arkansas. "Rocky" will be running with him. For more, see this
website
.