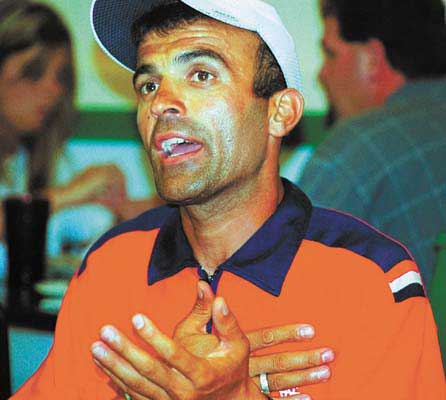 Reza in Shawnee, Oklahoma, earlier this year
Reza will finally be running down Broadway from the George Washington Bridge this morning, September 11. He will end up in Battery Park, instead of the World Trade Center, the destination he had been planning for exactly two years. The city said he couldn't be part of the festivities, so instead Reza and his dog Rocky will be in the park chatting with passers-by and greeting wellwishers.
Wednesday's NYTimes included a feature story on his run and his adventures since he left Iran six years ago.
Some people are born with a patriotic fervor for America. Others come to love the country despite its faults.

Reza K. Baluchi, for example, fell in love with America after spending the last four months jogging its open highways in the name of global peace. Along the way, he was locked up in an Arizona jail cell, attacked by a bear in California and forced to dive into a drainage ditch in Newark to avoid a speeding car.

"This is the greatest country in the entire world," said Mr. Baluchi, a 30-year-old Iranian whose passion for the United States remains undimmed.
Reza will be hanging out today between 11:30 am to 12:30 pm in the "Giovanni da Verrazzano" section of
the park
, located between Castle Clinton and the East Coast War Memorial. You probably won't miss them, as they're likely to be a very happy group. Reza's sweetness was darn infectious even without a dog.

[image from the Shawnee, Oklahoma News-Star]