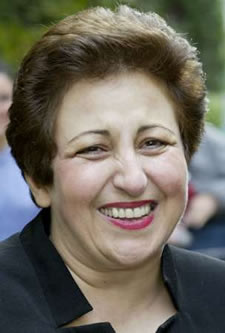 Shirin Ebadi arriving at a news conference in Paris today





In a brilliant decision by the committee in Oslo, the Nobel Peace Prize has been awarded to an Iranian lawyer and former judge, Shirin Ebadi, who becomes the first Muslim woman to win the award.
The Norwegian Nobel Committee praised Ebadi -- Iran's first female judge before the 1979 Islamic revolution forced her to step down in favor of men -- for battling to defend the rights of women and children.

. . . .

The five-member committee said Ebadi, jailed several times during her career and once branded a threat to the Islamic system, was a "sound professional" and a "courageous person" who had "never heeded threats to her own safety."

"We hope that the prize will be an inspiration for all those who struggle for human rights and democracy in her country, in the Muslim world, and in all countries where the fight for human rights needs inspiration and support," the committee said.
Her most serious rival in the competition, Karol Wojtyla, the Catholic monarch, must have been greatly disappointed, and sour grapes were served in Poland and the Vatican today.
Ebadi, 56, won from a record field of 165 candidates including Pope John Paul and ex-Czech President Vaclav Havel. Many hailed the award but former Polish President Lech Walesa, the 1983 Nobel winner, said the Polish pope should have won.

. . . .

A prize to the ailing pope or to Havel could have been too much like a long-service award when Alfred Nobel, the Swedish founder of the awards, said he wanted to inspire "dreamers."

Many researchers say that the pope's opposition to birth control, pre-marital sex, homosexuality and female priests seemed intolerant to many Norwegians, especially women, despite a 25-year-reign devoted to peace and religious reconciliation [on his own terms].

Three of the five Nobel committee members are women. One Vatican official sniffed: "I thought this was a peace prize and not a prize in sexual ethics."

. . . .

Walesa slammed the committee for passing over the pope. "I have nothing against this lady, but if there is anyone alive who deserves this year's Nobel Peace Prize it is the Holy Father," he said.
For more on only one enormously important part of Wojtyla's record, see
bloggy
.

[image from REUTERS/John Schults]