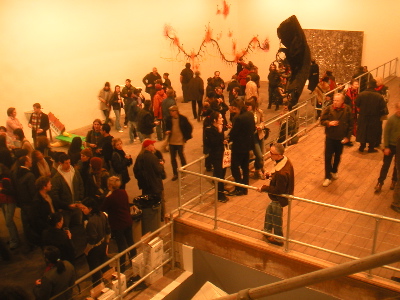 Deitch on Wooster Saturday night - hardly a grownup to be seen
Deitch still pulls them in - both artists and their young fans - meaning a hugely-diminished SOHO cannot be ignored quite yet.
There were simultaneous openings Saturday on both Grand and Wooster Streets, and it was good to be there(s).
Highlights: Tim Lokiec, Naomi Fisher and Hernan Bas in the smaller venue, and Hisham Akira Bharoocha, Tim Hawkinson and Christopher Garrett in the great barn on Wooster, where the attractive crowd was a distraction and a return visit should reveal some more (highlights).
Tim Lokiec's drawings were exceptionally beautiful, even (or especially) if you've already seen him at LFL. Loved Tim Hawkinson's truck tire.
There is a site for the curator of the Wooster St. show, Chris Perez, but there's no Deitch website! Especially shocking in the circumstances of their moneyed hipsterdom. Logistics: 76 Grand St. and 18 Wooster Street (212) 343 7300