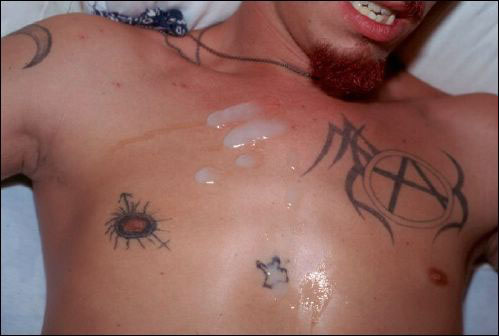 Michael Meads, Anarchist Cum Shot, 2002

The most exciting gallery show in town - at least until the next one - is at Team right now, "my people were fair and had cum in their hair (but now they're content to spray stars from your boughs)". But it wasn't the name of the show that pulled me into the space last Tuesday.
Instead, the cause of my unplanned detour as I rushed to the White Box benefit that evening was the fact that I had spotted a familiar Jeff Burton image on the back wall of the gallery's second room. Yup. From the sidewalk, almost half a floor above the space. It was something of a red flag.
Barry and I went back together yesterday, and we'll definitely return, probably more than once.
For me it might have been enough that this group show, curated by Bob Nickas, is provocative, and that it presents work by a number of young artists whose work we have already coveted or actually jumped on, but the installation is mad really awesome by the inclusion of some of their kindred of the last four decades, painter, sculptors, photographers and film or video makers, some now established, some nearly forgotten and some even ignored.
What holds it all together is its honesty and its delight in sexual pleasure. Also, the eye loves it all. There's not a dud in the entire show, a roster of 39 different artists.
Even the (serendipitous?) blending of sound from the two monitors playing near to each other contibuted to the energy of the (Six!) exhibition spaces.
One cavil, but it's more of a surprise, given this particular Team assemblage: Where's Joe Ovelman?
The show's statement by Jose Freire is a gem.
I'm not even sure much of the work is even available for sale, but I'm happy to think of the entire business as a great public service. Thanks, guys.
Oh yes, we're also delighted to find an important gallery installation whose title cannot appear in the NYTimes.
The show is up through November 15 at 526 West 26th Street.
[image from Team Gallery]