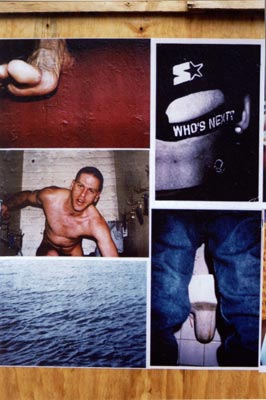 Joe Ovelman, Two Walls 2003, guerilla installation

If you missed Joe Ovelman's walls in Chelsea last month, and if you want to see more of the work I've talked about in the past on this site, stop by Oliver Kamm's 5BE Gallery by November 15, when the current small group show closes.
Ovelman has covered most of one wall of the gallery with many of the arresting images with which he had earlier wheatpasted the plywood on either 25th Street or 10th Avenue, and I don't think anyone has torn them off the plaster yet.
5BE Gallery is located on the second floor at 504 West 22nd Street, just west of 10th Avenue.
[image from Oliver Kamm 5BE Gallery]