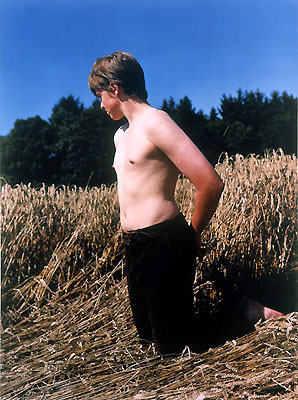 Collier Schorr, Jens im Weizen (Topless) 2000
c-print 55 x 37 inches
We went to a benefit for the New Festival two nights ago. It was essentially a silent auction of nearly a hundred items related, directly or remotely, to lesbian, gay, bisexual and transgendered film.
A few items, paintings and photographs, would have been standouts even in a benefit specifically oriented to the visual arts. They were of extrordinary quality.
In the midst of the minor chaos of the competition, Barry and I quicky zeroed-in on two items. I think we were successful with both because our interest in those pieces was not shared by other males in the room, and the lesbians present may have been too impecunious, in spite of the great personal style of a number of the women there.
One prize was a new history tome titled, "Entertaining Lesbians," by Martha Gever accompanied by a unique, hand-assembled photo album memorializing a pioneer female Hollywood director, Dorothy Arzner. The other catch was a wonderful example of the confounding art of Collier Schorr, whose photographs usually portray young males in a way which discomforts even those who would normally be attracted to them. This image was different. The small color print portrayed two affectionate young lesbians who could easily be mistaken for boys. In fact one member of the Festival staff insisted that they were male. Even after he was shown the title of the image I think he still had his doubts. The title? Karin & Michelle, Bismark Kassern 1998-2000
Arzner was a lesbian, a very successful director and later a film academic whose students incuded Francis Ford Coppola. Schorr is something like a gay man in a woman's body. Although I have a curious, remote connection with Arzner through a visit I made to Coppola's Rome apartment in 1961, neither B nor I is yet acquainted with her films. That's obviously going to be remedied soon, thanks to NETFLIX.* We've both admired Schorr for years, even before the wonderful show of her own "stuff" (not her work) which she curated at Apex.
Our thanks to the New Festival and everyone who went home happy that night.
* [later the same day] Oops. I placed too much confidence in our suppliers - or their suppliers. Barry just checked, and found that none of her films are available on DVD, although some are available on tape.
[image from 303 Gallery]