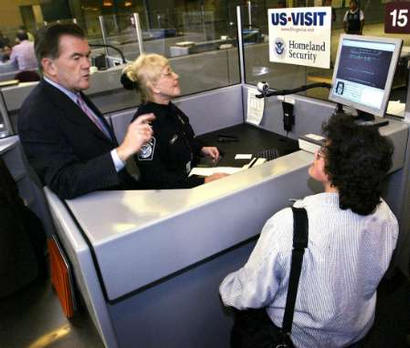 greetings!


the full Yahoo! caption reads:
Secretary of the Department of Homeland Security Tom Ridge (L) speaks with airline passenger Gloria Quevedo (R) of Chile as she is fingerprinted by Customs and Border Protection Officer Mary Armbrust at Hartsfield-Jackson International Airport in Atlanta on January 5, 2004. The United States began fingerprinting and photographing visitors from most countries on Monday in a controversial program to try to prevent potential terrorists from slipping in through the borders. REUTERS/Tami Chappell
So patriotic that it trumps the administration's disdain for "old Europe", even its hatred for the French.
Today the U.S. began taking mugshots and fingerprinting all visitors coming into and leaving the fatherland, although an exception is being made for citizens of European countries and Canada. Mexicans are also excepted, for now but since we have always made "special" arrangements for what we think of as the permanent threat of the darker people from the areas to our south, I'm sure we will continue to address the problem of those immediately below our border with the seriousness we think it deserves.
Basically, if you're not a white European, we just don't trust you and you just better watch out.
But does anyone trust the people in charge to make Americans safe? Tom Ridge, like virtually every member of this administration, wouldn't even have a passport if his current job didn't require it, and that kind of provinciality and just plain incuriosity shows in the disastrous policies which this government pursues.