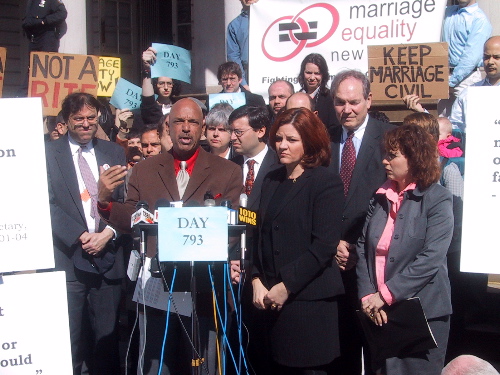 Phil Reed, Chris Quinn, their colleagues and all kinds of friends, in front of microphones and cameras this morning at City Hall

A number of New York City Council Members today called on Mayor Bloomberg to state his position on the issue of same-sex marriages, with Council Member Chris Quinn leading the challenge:
"When Mike Bloomberg ran for office, he said he was going to be leader and not hide behind politics. Today, 793 days into his mayoral administration, we still don't know the Mayor's position on this critical civil rights issue."
Among the speakers at a press conference outside City Hall this morning were Alisa Surkis and Colleen Gillespie with their child Ella, but rivalling their profound impact were the words delivered by Council Member Phil Reed, who described how he first found out that his parents had had to go to Mexico for their mixed-race marriage.
If more people understood that marriage didn't have to be described by superstition and prejudice the institution would be more popular than ever - or in the best of all possible worlds it would simply cease to exist as a legal contract, its important practical ends served better by the application of principles of equity.

Hovering over the speakers this morning were two sets of signs I had hurriedly made on Saturday night and again last night in the hope of clearing the air of the religious fanaticism which so obscures the subject of marriage in this country. [yeah, as if . . . .] One reading, "IT'S A RIGHT", was to the left of its partner which continued, "NOT A RITE". The other pleaded, "KEEP MARRIAGE CIVIL". [Barry came up with the language of the second sign. I really like its gentle alternate entreaty] Some of the questions reporters directed to the Council Members after they delivered their initial statements suggested that there might be the beginnings of an understanding that the discussion of marriage is dominated by religious cant.

Unfortunately we have a lot of work cut out for us on every issue, since in this country every discussion is dominated by religious cant.

People working for the recognition of same-sex marriage in New York will be back at the northeast corner of City Hall tomorrow, this time for a demonstration from 8am until 9:30. They will be supporting the dozens of couples who are expected to enter the Marriage Bureau in the Municipal Building across the street to ask the City Clerk for marriage licenses.

For more information see New York Marriage Now.