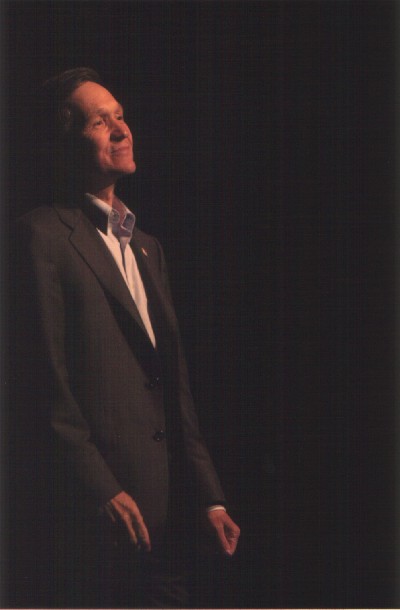 Dennis J. Kucinich

Just got back from our polling station across the street. Somehow I had absolutely no trouble finding Kucinich's name, even though the NYTimes and so many others seem to have lost it. [the name happened to be at the top of the list, as it has been for me all along]
Today's article about New York's Democratic voters mentions only Kerry and Edwards (repeatedly). In fact the list of names on today's New York State ballot also includes Kucinich, Lieberman, LaRouche, Dean, Sharpton, Gephardt and Clark. The only suggestion that there might be other choices for voters is this one oblique reference, in the fourth paragraph, to a larger contest:
The two front-runners [my italics], Mr. Kerry and Mr. Edwards, spent the final day before the so-called Super Tuesday primary campaigning in other states, leaving New York and the battle for its 236 delegates to surrogates.
Elsewhere in the paper, a
lead
article on the front page discusses the Capitol Hill non-relationship between the two "front-runners", once again totally neglecting to mention Kucinich (who also happens to be work in Congress) or of course Sharpton and the others.
Oh yes, to be fair, I have to confess the paper does include one article devoted exclusively to Kucinich, "Kucinich's Campaign Leaves Hometown Voters Wondering". The piece never really explains what they are wondering about , other than to suggest that he may have, by the paper's own account, ". . . distanced himself too much from the hometown voters who have sent him to Congress four times." One 79-year old interviewed volunteered, "He has done some good locally, but I think he's gone bananas." This stellar NYTimes source said she thought [my italics again] she had voted for him in the past. Ok, there is one specific criticism mentioned. A woman described as a Catholic said she would no longer support him because he had reversed his longtime opposition to abortion.
Alright, I'm now giving the Times far too much attention. Bloggy found more interesting stuff elsewhere: For a real look at Kucinich and at what happened to his campaign, see at Matt Taibbi.
[image is from the campaign site, photo by Eric Rife]