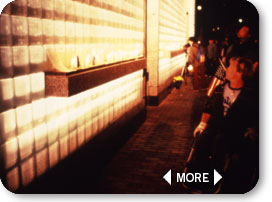 at the New York Vietnam War Veterans Memorial, the night of its opening to the public
"Vietnam," author Myra McPherson has written," was a war that asked everything of a few and nothing of most in America."

[from the New York Vietnam War Veterans Memorial site],

I've been to the New York Vietnam War Veterans Memorial beginning on the day it opened and a number of times since. Until 1987 I lived just one block away and I passed it at least once every day. At first it was never unattended, but visitor traffic has declined in recent years, and sometimes the small park triangle it occupies in the oldest, and during the day the busiest, part of the city is completely empty.
Even since moving uptown I've returned, often with friends visiting New York, and I'll be going again, since the letters of a war's American participants etched there in the glass are among the most profound modern testaments we have of the stupidity of both the governed and those who presume to govern them.
[tip: probably best to visit after dark, when the wind-swept day's trash is less visible, and the inscriptions are lit from within the glass monoliths]
Apparently not enough of either group has been visiting lower Water Street at Coenties Slip lately, or the letters which appeared in the NYTimes on Sunday might never have been written. Their authors all died in Iraq since last fall.
Read and you will surely weep.
What follows is an excerpt from among several letters to his mother written by Specialist Robert A. Wise, 21, of Tallahassee, Fla. Specialist Wise was killed six months later, on Nov. 12, by a homemade bomb while on patrol in Baghdad.
Thursday, May 8

Rumor has it that we'll be on a plane home June 22, so keep your fingers crossed. I'm really going to need your help setting up a budget when I get home and making sure I stick to it. I know the only way I'll complete my goals of paying off my car and getting all of that furniture for our house by the end of the year is by paying attention to what I spend my money on.

Well, I'm runnin' out of things to write about. I love you and I miss you. Tell everyone I said hi, and one day I'll get home.

P.S.: There's no place like home (click)
There's no place like home (click)
There's no place like home (click)
Damn, it didn't work again!
Since no one seems to be able to stop the senseless slaughter from this end, perhaps a mutiny would actually be a reasonable approach.
[image from the official site itself]