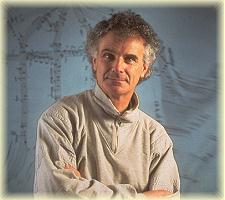 Peter Maxwell Davies
The great British composer Sir Peter Maxwell Davies has been appointed Master of the Queen's Music.
The Guardian site begins its report thus:
Buckingham Palace yesterday admitted that the Queen has chosen Sir Peter Maxwell Davies, a gay, self-styled "old-fashioned socialist" and republican, as the Master of her Music.

The fact that Maxwell Davies is also perhaps the pre-eminent British composer of the day appears not to have been a handicap for a job which has seen some previous musical talents overlooked in favour of justly obscure nonentities.

Although previous incumbents have included Sir Edward Elgar and Arnold Bax, the 380 year-old post inaugurated by King Charles I has also been held by the likes of Nicholas Staggins and Maurice Greene, chosen instead of Henry Purcell and George Frederick Handel.
Perhaps understandably, there is little in the Guardian article about his musical production. We have just about every
recording
of his music ever available in the U.S., so for us at least the music needs no introduction. The paper also neglects describing just how beautiful a man Davies is [very], but it seems to have missed little else in composing a report that succeds in being exquisitely provocative.
The composer made clear at the weekend that had the job been offered by the government he would not have accepted because of his opposition to Tony Blair and the Iraq war, which he described as the worst foreign policy decision since the crusades.

The Sunday Times quoted him as saying: "I voted for Blair twice, but never again. He has betrayed the principles of the Labour party, not just on Iraq, but on tuition fees and foundation hospitals. Yes, I'm an old-fashioned socialist and I feel utterly let-down."

His principles did not prevent him accepting a knighthood in 1987, as an honour for music, though he threatened to send it back seven years later because of plans to amalgamate London's orchestras.

He has accepted the job for 10 years, rather than for life, on the basis that it may be used to promote music, rather than for the composition of anthems and other ceremonial music for royal occasions.

A palace spokeswoman said tactfully yesterday that the post, which carries with it a small stipend, placed no obligations on its holder.

. . . .

His works have been performed all over the world and are said to be becoming more accessible to general audiences, which may come as a relief to a royal family of generally limited musical interests - the Queen paid her first visit to the Proms for 50 years last summer.

She may be relieved to know that Maxwell Davies has been known to write compositions to mark propitious events, including a lullaby for the first baby born on the Orcadian Island of Hoy for 25 years. She may be less impressed that his previously best-known work about royalty, Eight Songs for a Mad King, was a meditation on the insanity of George III.
This is also the man who composed the extraordinary opera of the Antichrist, "Resurrection", described in these excerpts from an amazing
review
in the
NYTimes
[byline uncredited]:
Begun in the early 1960s but not performed until 1987, Resurrection, with music and libretto by Mr. Davies, is one of the fiercest works of social criticism ever to come from the pen of a classical composer.

. . . .

The savage parody could easily turn preachy and heavy-handed, and it is to Mr. Davies's credit that he, like Weill, knows how to handle such material with an irreverent, comic touch. The libretto is witty, often ingenious and viciously anticlerical. (A minister sings: "For we can make the Book mean just anything we please,/And use it as a weapon to bring you to your knees,/With the promise of salvation shining on your steadfast face,/By the word of God, this Book, we can keep you in your place.")

The composer helpfully describes in clinical detail the transformation he has in mind during the metamorphosis of the patient into the Antichrist: "Despite the lack of testes, which the Surgeons removed, the Patient's penis slowly becomes erect - a huge submachine gun, directed over the audience."

. . . .

It is also a protest against the sexual conformity demanded in a Thatcherite England and a Reaganite America. A recurring theme of Resurrection is the homophobia spouted by the hypocritcal political and religious establishments. In one particularly memorable scene, three of society's supposed moral guardians - a Policeman, a Judge and a Bishop - have an unscheduled meeting in a stall of a public lavatory.

. . . .

It is impossible to listen to the opera without finding it chillingly timely. The message of Resurrection could easily be transplanted to the United States, circa 1996. But it is doubtful that it could be staged in the present [January 1996] political climate. Somehow, one imagines that Federal, state and corporate support would not be forthcoming.'
Ain't opera grand?
[image from MaxOpus]