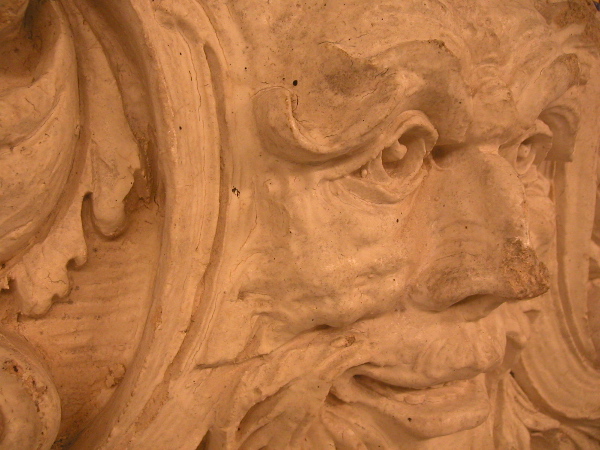 19th-century terra cotta fragment newly mounted inside the Museum subway station
The Brooklyn Museum celebrated its $63 million shiny new front door and merry greensward with a wonderful party this weekend. The elaborate entrance shed and its landscape approach added no square footage to the exhibition space of the grand Beaux Arts pile and its architectural merits will be debated for years, but it definitely appears to be a hit with the its city.
The Museum inaugurated a new commitment to its community with "Open House," a wonderful show of work by living artists working in Brooklyn and a sadly postumous retrospective of the truly fabulous art of Patrick Kelly. I highly recommend both shows, but while we had come for the energy of the celebration and the honoring of Brooklyn artists, we were both bowled over by what Thelma Golden's curating has done with Kelly's legacy. It's about much more than dresses. The designer would have been delighted with both the style and heterogeneity of the people filing through all his gorgeous stuff on Sunday.
For many young visitors however the weekend will be remembered first for participatory art, music, funny paper hats and a spectacular new fountain with a sense of humor. The people we saw on Sunday both inside and outside the building were definitely not all of the sort usually attracted to sober museum precincts. It's clear that from now on neither this Museum nor its visitors, its true patrons, will be satisfied thinking of the institution as just a warehouse of dead culture.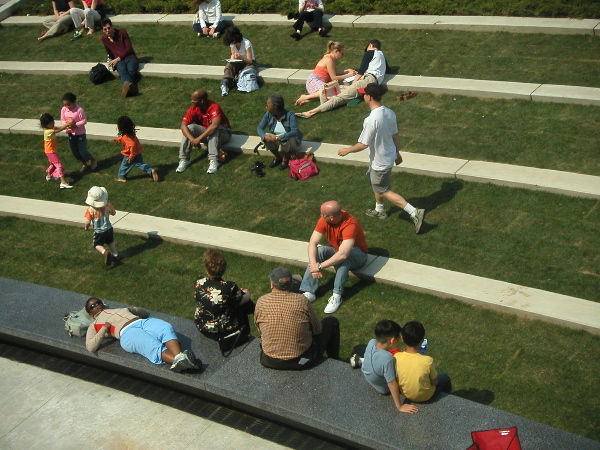 Brooklyn crowd exhausted by art - or just waiting for the next fountain