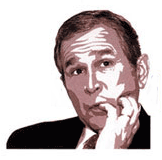 The Nation has just published an editorial [unfortunately available on their website only to subscribers] which would be devastating in its implications if we were part of a healthy democracy. In this excerpt the editors write that the evidence of our chief executive's crimes which is now available to the public is unambiguous.
The President has known for more than two years that his Administration has been pursuing policies that could qualify as war crimes under federal and international law. In a January 25, 2002, memo, White House Counsel Alberto Gonzales advised the President of "the threat of domestic criminal prosecution under the War Crimes Act," a federal statute. He advised Bush to invent a legal technicality--declaring detainees in the "war on terror" to be outside the Geneva Conventions--which, he said, "substantially reduces" the chance of prosecution. Gonzales went further, telling the President that the war on terrorism "renders obsolete Geneva's strict limitations on questioning of enemy prisoners"; he pooh-poohed concerns that abandoning the Geneva standards might endanger US troops.

Let's be clear about what this means: Gonzales was urging--and the President adopted as policy--an end run around federal laws. The War Crimes Act, passed by Congress in 1996, allows criminal prosecution of Americans for actions that violate the rights granted prisoners and civilians by the Geneva Conventions and for "outrages upon personal dignity." It is backed by the full range of federal penalties, up to and including the death penalty. And all treaties, including the Geneva Conventions and the Torture Convention, are likewise the binding law of the land.

. . . .

The evidence emerging from Abu Ghraib reveals high crimes and misdemeanors in the precise sense of the Constitution's impeachment clause.
But, since it's not about a blow job, and since this kind of charge is just far too embarassing to address, both parties will probably just ignore the whole thing.
[image from liftingthefog.com]