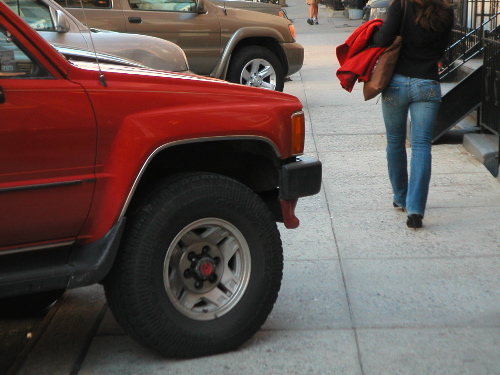 19th Street, east of 8th Avenue this afternoon: the signs read: "NO PARKING 8am to 6pm"
In 1962, at the peak of urban flight, New York City law was changed to permit police officers to live outside the city for the first time in its history. New York hasn't been the same since. Although there have been many more frightening consequences, here we see one of the most visible.
Each of the vehicles shown above, almost all privately-owned and almost all SUVs, had large police permits lying on their dashboards. The 10th Precinct headquarters is located mid-block. So while they're already getting free parking, apparently the street itself isn't big enough for these commuters' monsters. The narrow sidewalk of this quiet, tree-shaded residential block has to be commandeered for their convenience.
This is a scene reproduced all over the city, wherever there are police (or fire) stations. It's no wonder that police routinely ignore threats to the safety and convenience of millions of New York pedestrians; the officers we pay for are essentially part of an occupying army, and they don't know how to use their feet. I won't even bring up large squad cars regularly double parked outside Krispy Kreme, or routinely blocking busy pedestrian crosswalks.
Incidently, the continued presence of these angle-parked precinct officers' private tanks even at night makes the street signs somewhat disingenuous: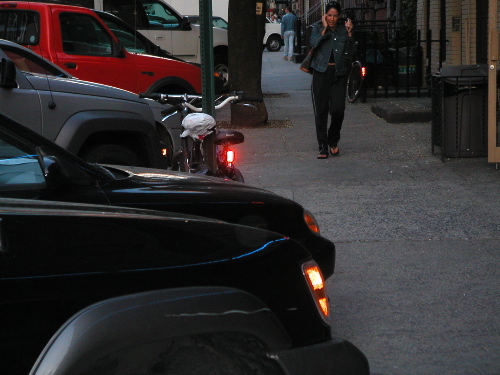 the same block at 7:30pm last Friday