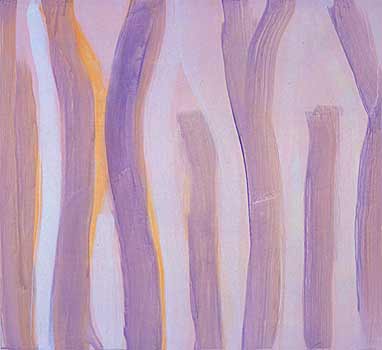 Susan Wanklyn Atlay (2004) 24 x 26 inches, Casein on Wood
The art is very smart, very beautiful, but that only begins to describe the artist, for whom we have to add warm and nice. Ok, we know Susan Wanklyn just a bit, but it's because for some time we've very much enjoyed living with both one of her earlier paintings and two iris prints.
Guests invariably ask about the strong, uncharacteristically almost-colorless grid hanging in our dining room. We can't offer much of an answer. We like the fact that we haven't stopped asking about it ourselves.
Barry and I won't be able to make the opening tomorrow of her show at Cheryl Pelavin Fine Art in Tribeca, but I've seen emailed jpegs and the images on the gallery site. They show that she's certainly not standing still and that the work has never been more beautiful - or sensual.
Always loved the casein paint!*
From the artist's statement on her gallery's site:
My work shares with classical minimalism the focus on the viewer and the act of seeing. In addition, however, the challenge has been to set up a room of paintings that have the feel of cohesive narrative, seamlessly giving thematic cover to formal concerns. I have introduced shapes that are abstract and figurative at once (I want to have my cake and eat it too.) As Alfred Hitchcock said in reference to his movies, I am not trying to create a slice of life but rather a "slice of cake."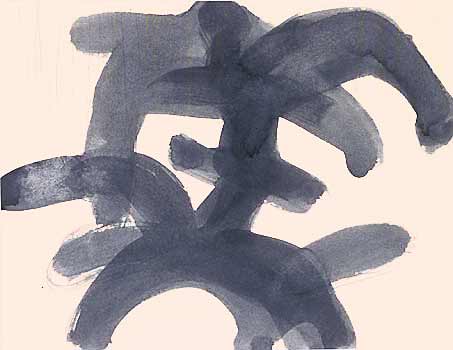 Susan Wanklyn Action Figure #7 (2004) 9 x 11.5 inches, Casein on Paper
*
Because of living twenty years in a modest 18th-century house in Rhode Island I once thought it could only be associated with beautiful country furniture.
[images from the Cheryl Pelavin site]