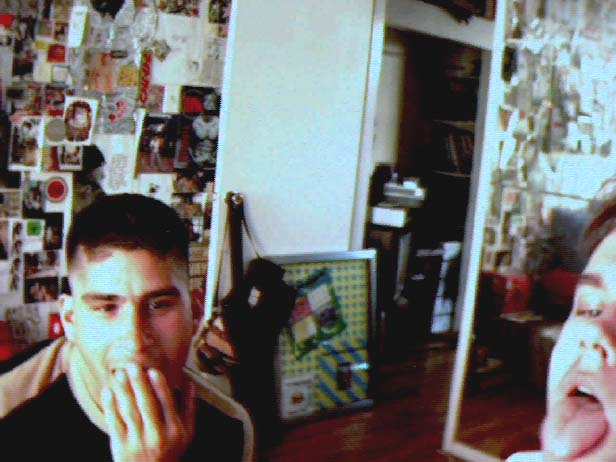 Lower East Side relativity
Half the theatre had emptied out when we returned after intermission last night. I did recall hearing, as the lights went up, one matron in the row in front of us repeating to her partner over and over again, "no content; the play has no content."
She was wrong. In fact I think she may have been covering for her embarassment in being shocked by what was happening on stage. I cannot account for the reasons why so many others, like those two, failed to come back for the last 50 minutes of Christopher Shinn's "Where Do We Live." but the play making its U.S. premier at New York Theatre Workshop this month is definitely a serious container - of the relationships we all have with family, friends, lovers neighbors, strangers and, finally, the entire world.
He's good. He's very good.
Disclaimer: We stayed after the play for an audience discussion with the young playwright, so I may be a little ahead of the game. Here [the remaining] New Yorkers really redeemed themselves. I was blown away both by their theatre sophistication and by their obvious comfort in talking about some of the scenes and issues which had apparently caused our more prudish seatmates to flee the house, some only minutes after the play had begun. While there we were reminded that Shinn has been very fortunate in his teachers, who have included Maria Irena Fornes, Tony Kushner and Michael Cunningham. Whew.
September 11 plays a subtle, almost mute role in Shinn's drama, written in the months after the destruction of the towers which had stood in sight of his apartment on the Lower East Side. Don't concentrate too much on the dates projected on the back wall. The story which unfolds inside two neighboring apartments in a tenement abandoned by Giuliani's Republican idea of New York is that of nine barely-related people struggling with all human connections, even those they would prefer to ignore.
The energetic young cast, some doubling, tripling or even quadrupling roles, was magnificent. Shinn is directing a play for the first time here, and he seems to know what he's doing. The set and the costumes were a perfect match with the lighting, which peformed small miracles reinventing rooms and scenes. The great sound design was an integral part of the characters' story, but it was just one of the many stimulants in which they indulged, just like real.
"Where Do We Live" opened in London at the Royal Court in 2002 and opens here officially this Sunday, May 9. Performances run only through May 30. If you're not bored with youth, New York, sex, drugs or rock and roll, or indeed with relationships, you're more than welcome to do something about changing the audience demographic responsible for the empty seats we saw later last night.
[image is not from the play, but rather from Mark Allen's site, where it is described as "the confines of my super-exciting NYC Lower East Side apartment"]