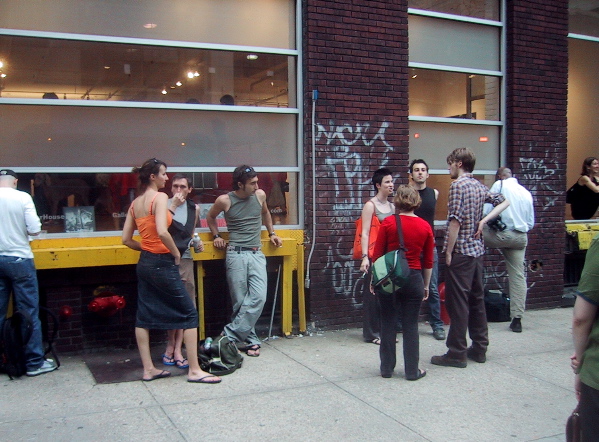 live "dancers, whores, merrymakers, and priests" outside powerHouse Books (the few "corpulent Weimar German types" to be seen last night were inside by the snacks and bubbly, but since they were there, they were obviously on the side of the republic)
Three years ago Larry Fink completed the film shoot, and the pictures were scheduled to run in the NYTimes Magazine in the Fall of 2001 as an arty fashion spread with a bit of frisson. There they would probably have attracted a modest amount of attention.
Then the world seemed to stop. September 11 may not have changed everything, but it certainly frightened the Times, and, as it turns out, apparently every other periodical market in both the U.S. and Europe.
The tableaux vivant produced in the summer of 2001, with their voluptuous, polychrome sculptural presence, have become forbidden pictures.
Fink has been unable to persuade any magazine to print these remarkable photographs. powerHouse Books is now publishing them and they are currently visible at their gallery on Charlton Street, where they will remain through the last day of the Republican Convention, September 2. The Gallery calls them, "a provocative political commentary" and "a satirical look at America's current leaders."
The artist tells us a little more.
It was simple! I was shooting fashion, perhaps a compromise for me, but a trivial, jovial, stylish, learning theater. Why not use its public accessibility for subversion, satire, association, and education? An idea! One of my favorite periods in twentieth-century art was Weimar Germany, with Beckmann, Dix, and Grosz all melting down convention in an impassioned visionary way. Grosz was especially political, but all of the were hyper-aware of the decadence, the despair, the hysteria, and the lies. I suggested to The New York Times Magazine (whose rear end is sometimes gifted with fashion spreads) an idea to replicate the period but loosen it, update it, and tell it anew. There were fashion equivalents and certainlymoral and historical ones.

Oh the glee! They said yes. I suggested that rather than the corpulent Weimar German types, why not use our current fraudulent leaders, George W.and his cabinet. Oh the glee! They said yes. Political satire and critical acuity are something rarely if ever done in fashion. Yet another coup.

We searched for the cast of dancers, whores, merrymakers, and priests. We searched for the look-alikes of our own Mr. G. W. and his consortium. We found it all and went to work. Five paintings chosen from the period and three days shooting them, interpreting them, and creating aesthetic clarity and political bedlam.

The pictures were shot on 7/19/01 and were hypothetically scheduled to run in The Times in the fall. 9/11 gave birth to doom. The tragic inevitable moment, the rupture of providence, the rape of the external soul of America. And its aftermath. [excerpt from the Artist's Statement]
These
are the pictures. But don't expect credits for the fashion.