protesting in the altogether
It's AIDS, stupid!
ACT UP pulled off a classic action this afternoon across from Madison Square Garden, the site of the Republican National Convention, scheduled to open formally on Monday.
In the spirit and the extremity of these strange times, the boys and girls did it while entirely naked, and a beautiful sight they were.
Excerpt from the ACT UP New York/ACT UP Philladelphia press release:
A dozen activists stopped traffic in front of Madison Square Garden and
stripped naked, exposing the fact that when it comes to AIDS, "the emperor
Bush has no clothes." Slogans were painted on their bodies that read "Drop
The Dept" and "Stop AIDS Now," while [two other activists] held a banner
with the same message - another was dropped over one of the trailers parked
nearby.

We were protesting the Bush administration's refusal to agree with the
proposal of other G7 nations to cancel 100% of the debt of poor nations -
money that could be used to fight AIDS.

While Bush has promised $15 billion over 5 years to fight Global AIDS, poor
nations pay that amount each year in debt payments. Cancelling the debt
would have significant impact on money spent toward health care and other
desperately needed social programs.

After blocking traffic for 15 minutes, the naked activists were arrested and
taken into custody.
[image from Bloggy, via NY1, may be supplemented later]
UPDATE: As I had anticipated earlier today, I now have a photo of at least partial images of the action's neatly-lettered text messages, "DROP the DEBT" and "STOP AIDS:"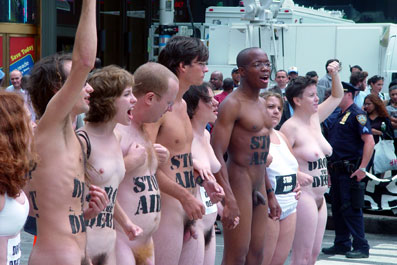 [second image from Health Global Access Project (GAP), via James Wentzy; there's much more on their site]