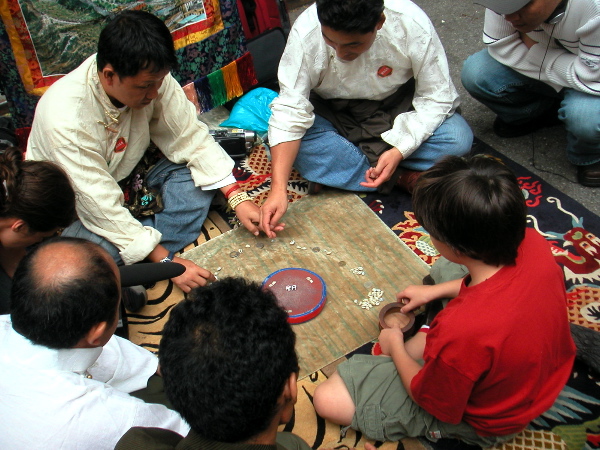 I have almost no idea what we're looking at here, but it was one of the most interesting things I saw yesterday afternoon while we were at the Himalayan Street Fair. Maybe someone can explain the game; these people seemed to be having a ball.
Seventeenth Street between 6th and &th Avenues was closed for events and installations celebrating the opening of the Rubin Museum of Art.
Late risers, we had apparently arrived just after the Himalayan Dog Pageant. Most of the attractive competitors were still hanging about however, continuing to draw small crowds of admirers. We probably missed all of the most exciting events scheduled for the day. Barry did buy a beautiful green scarf from the good people inside the Bhutan kiosk, and I liked the geographic conceit which set up the portable rock climbing wall for the occasion.
We decided that the line to get into the building itself was too long, deciding to return another day. The trip itself won't be a challenge, since we're only six blocks away, but any visit to this museum will certainly demand more than a quick run-through.
[historical note: the building now occupied by the museum was once the site of Barneys, an oddly entertaining temple of chic in the 1980's and early 90's; the Pressman family's creation self-destructed ten years ago and the stores which bear the name today are basically corporate pretenders]