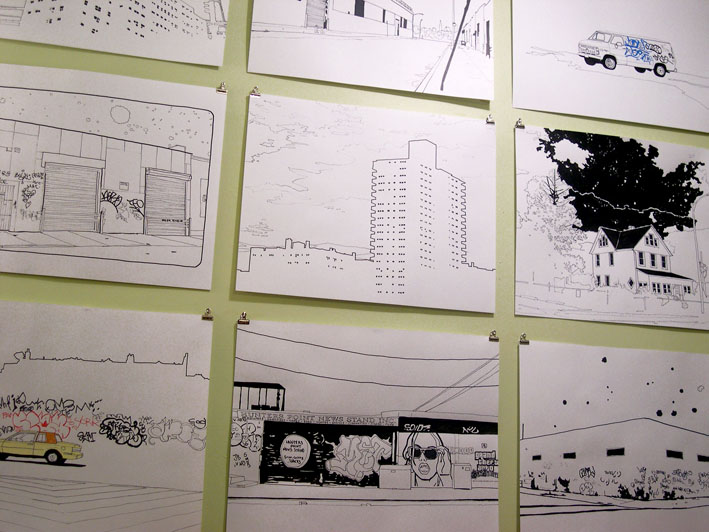 Carlos Roque, detail, Processed Normal Without Frames 2004, fifteen drawings, permanent ink and color pencils on paper
UPDATED AND CORRECTED INFORMATION IN THE TEXT BELOW
Great show! Joymore is the kind of gallery you hope to find in Williamsburg (or anywhere else on the planet you may be at the moment) but it's still a big surprise when you do. Typically the principal lives in the space, and is totally committed to the artists whose work is being shared with you. You probably haven't seen the work anywhere else - yet.
Inside the gallery, where we found a stunning group show of five artists, we spoke to Melissa Schubeck, who brought Joymore from Chicago. A quick check on line reveals that she's pretty familiar with alternative space and alternative artists. In an email she sent today I learned further that Joymore began as a gallery space there in 2000, and that the name was also attached to a number of public art projects she curated. In the last year she was joined by a partner, John Henley.
In Williamsburg, where she will be on her own again, she plans to continue the project space in addition to curating public art projects in alternative environments. It looks like great fun!
Chicago's loss is our gain for sure.
Actually I already knew some of the work of Andrew Jeffrey Wright. One year ago Barry and I had gone home with two small drawings from a show at Champion Fine Arts curated by Reed Anderson. Even within the smaller dimensions of Joymore's rooms he still manages to show two very different kinds of work on Grand Street. Excellent stuff.
Carlos Roque happened to be sitting in the back room working while we were there last Sunday, so I was able to tell him how fine I thought his wall of mostly black and white drawings were.
Pedro Velez's photographs and drawings would probably confound almost anyone on a first visit, but the mind really wants to know more. Gotta go back.
Josh Kline is responsible for a large digital, faux-heroic glacial landscape which covers the wall facing the entrance.
Oh yes, there's also an outside sculpture space, a wonderfully luxurious appendage in a space this small. It had been raining the day we visited, and in spite of the abstraction of its form Devon Costello's "Glacier" looked very good with a shallow pool on its base.
[image from Joymore]