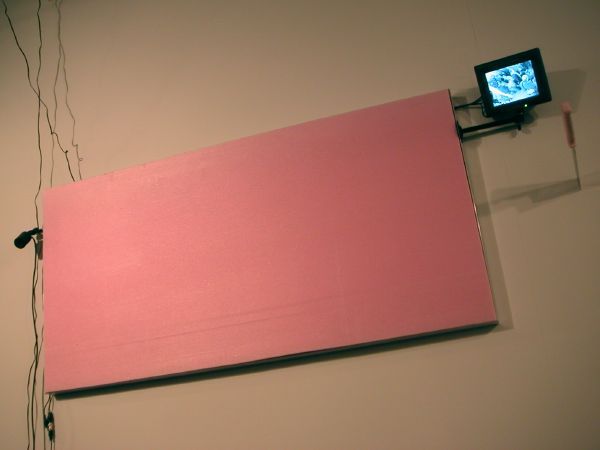 Julia Scher Security Landscape of the Year 2004 metal, monitor, Styrofoam, camera, knife, string, metal frame 24" x 47.75" (dimensions vary with installation) installation view
In spite of their other, more social pleasures, opening receptions are never a good time to see a gallery or museum show, so I will have to suspend most of my usual (innoxious) judgments about the new Artists Space exhibition, "Log Cabin." The name of the show is a reference to the scary national right-wing gay organization (and much-abused victim of unrequited elephant love), the Log Cabin Republicans, and it aims to examine the impact of reationary politics on representations of the queer experience and on the creative expression of queer artists.
Jeffrey Uslip, the young curator, has assembled an interesting group, and I'm delighted that it includes a number of names with which I'm totally unfamiliar.
But of course some were more than recognizable. I've written about Scott Treleaven several times in the past and I think I've watched the fluid development of his collage work almost from its very beginnings with a zine and a brilliant video. Because of that and because it is installed very smartly in a separate room in the Artists Space environment his contribution (which is actually something of a mini-retrospective, although that seems ludicrous, since the artist looks barely out of his teens) came together and really stood out, at least for me, even in the midst of the large enthusiastic crowds which came out of the cold on Tuesday, the night of the opening reception.
I will definitely go back for a better look at each of the other artists' work, much of which I confess was pretty baffling without enough room to see it or a proper scorecard. Among many other pieces only half-seen that night, I'm curious about Allison Smith's sculpture installation, "Flagging Stack Arms," Terence Koh's "29 seconds of attraction," K8 Hardy's "Trying to Talk," Paul Pfeiffer's video "Empire," which is described as of three-month duration, Julia Scher's "Security Landscape of the Year," and the very un-Republican imagery of Ken Gonzales-Day.
Andrew Solomon managed to garner two separate, modest-size spaces with two very different works, and he deserved both of them. We love Dave Burns! I hardly had more than a glimspe of the various video works spread throughout the rooms. Dean Sameshima's photographs are always sexy (even when they include no human figure) but that's always only where they start. Any show in which Glenn Ligon's work (here, one piece descibing four wonderful texts* on canvas) is among the most accessible is definitely worth some serious visiting time.
*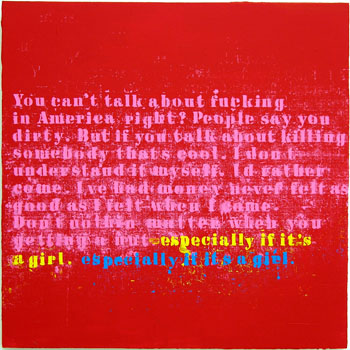 Glenn Ligon Especially If it's a Girl #1 2004 oil and acrylic on canvas 30" x 30" detail
the complete text of this section of the piece reads:
You can't talk about fucking
in America right? People say you
dirty. But if you talk about killing
somebody that's cool. I don't
understand it myself. I'd rather
come. I've had money never felt as
good as I felt when I came.
Don't nothing matter when you
getting a nut - especially if it's
a girl, especially if it's a girl.