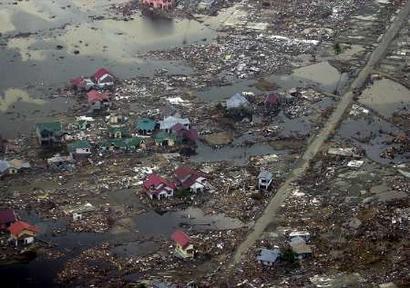 Meulaboh, Sumatra, Indonesia, today
I have no status in and no experience of emergency relief operations, planning or administration, but anyone could have foreseen that the immediate challenge in responding to the tsunami disaster would be the logistics of accessing the people who need help.
Yet almost everything I've seen written about the scale and kind of the world's response is being expressed in monetary terms. Meanwhile, beginning already several days ago there have been alarming stories about large stocks of water, food, fuel and other matierials assembled at airports or elsewhere which cannot be transported to those who need them most. Speed is incredibly important after disasters and this one is already almost a week old.
The U.S. used to offer to send elements of the Air Force, the Navy, the Marines or the Coast Guard when disaster struck and transportation and communications were disrupted anywhere in the world. I haven't heard anything about our volunteering to any nation the men and women or the planes, ships, landing craft, helicopters (no equipment could be more important in southern Asia right now) or even trucks (they don't have to be armored, so we should have a good supply already) which could best deliver help to remote villages and islands around the Indian Ocean basin. No one is better equipped to do this than the United States.
But sorry, world. Our people and equipment are just not available. Our resources are otherwise (and fully) engaged in wars, and if those engagements didn't look good before, they certainly are not going to make us look any better now.
I think the world will find the money for relief and reconstruction, perhaps to a great extent because of the generosity of people more than the largesse of their governments, but lives are being lost right now because we're not there. War has become such an addiction for the U.S. that I'm not sure we're ever going to show up again.
UPDATE: Maybe there's still hope for all earthlings. Immediately after finishing the post above I found this AP story. But it's still too little and too late for too many.
[image from REUTERS/Dudi Anung-State Secretariat]