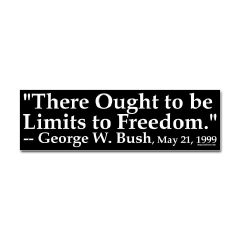 I just spotted this reassuring headline in the "Reuters: Top Stories" section of the MY YAHOO! home page on my browser:
"Bush Freedom Speech Not Sign of Policy Shift - Aide"
Goodness! That's a relief. For a while there I was pretty nervous about the fact that Bush's inauguration address seemed to suggest he intended to go off in some wacky new direction during his second term.
I'm copying the first few paragraphs of the Reuters story here, but only for their entertainment value; they read something like a Saturday Night Live "Weekend Update" segment.
Bush Freedom Speech Not Sign of Policy Shift - Aide


By Caren Bohan

WASHINGTON (Reuters) - President Bush's inaugural vow to spread freedom and stand with the oppressed against tyranny was not meant to signal a shift in U.S. foreign policy but to elaborate on a long-term goal, a senior U.S. official said on Saturday.

Bush's second inaugural address on Thursday raised questions around the world about what measures he might use to bring about his vision of freedom.

Some analysts wondered if it signaled a new, more aggressive policy toward countries like Iran and also if it would lead to strains with nondemocratic allies like Egypt, Saudi Arabia and Pakistan.

"The speech builds upon our policy," said a senior administration official, who spoke on condition of anonymity. "It states very clearly the long-term goal we should always be working to achieve."

The official said there was a recognition not all countries would be ready to embrace freedom right away and that the means for trying to further the goal would in many cases involve quiet diplomacy.
[image of bumper sticker is from Irregular Goods; for text documentation see the Washington Post]