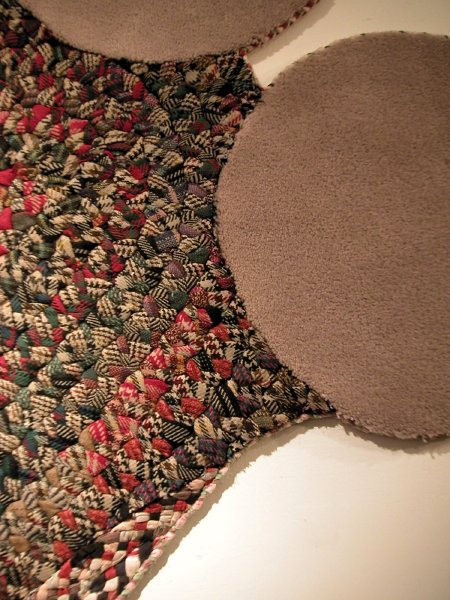 Monique Luchetti Thorn In My Side 2005 re-braided rugs and commercial carpet, detail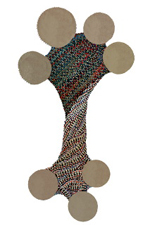 Thorn, full image
Like so many of her contemporaries, male and female, Monique Luchetti delights in bringing what has been conventionally regarded as "women's work" to the sacred precincts of the art gallery. In her current show at The Phatory, "RNA," a practical domestic tradition has become almost completely transformed, far beyond the (considerable) labor involved in her physical alteration of (mostly) found materials. These "canvases" evolve into economically-constructed, powerful, abstract and timeless worlds. Or, as the press release would have it,
For this show, Luchetti presents work using second-hand braided rugs and other floor coverings, which she pulls apart and reweaves into works of art. As in cellular regeneration, Luchetti's work metaphorically decodes the aesthetic blueprints implicit in these formerly utilitarian objects, liberating them from their domestic duty. This transformative process extends the labor of the original weavers who, despite working within pragmatic and cultural confines, imbued their rugs with their own visual aesthetics.
There are now additional images, including some works on paper, uploaded onto Luchetti's
website
. Many of these pieces are in the current show, but there's much more.
[second image from The Phatory]