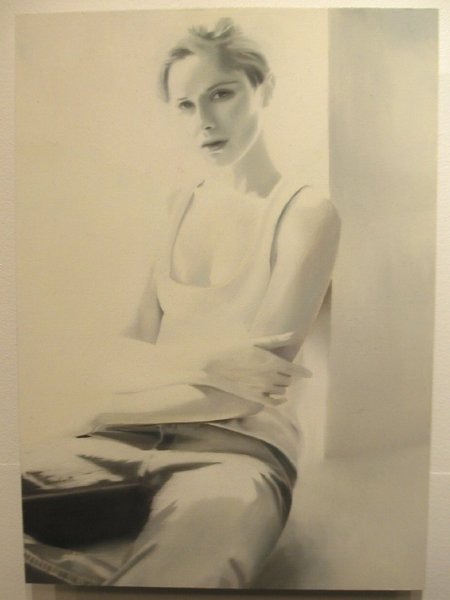 Christoph Schmidberger Yours Till the End of Time 2004
The stylish and merry crowd which braved a nor'easter to get to the opening tonight made any serious judgments, not to say almost any chance for decent photos, almost impossible, but there was more than enough opportunity to see that a return visit, or first pilgrimage, to Bergdorf Goodman before March 29th (when everything comes down) should be in order.
Fifty emerging artists represented by dozens of emerging galleries from around the country have found their way onto the designer floor walls of the Men's Store, through the good graces of the upscale clothing emporium itself, Giorgio Armani, the New Art Dealers Alliance (NADA) and the persuasive offices of Simon Watson's Scenic.
I loved the quirkiness of Bill Adams's one-eyed kitten, courtesy of KS Art. Although I just couldn't get a clear photo, for a number of reasons, here it is anyway to haunt us all: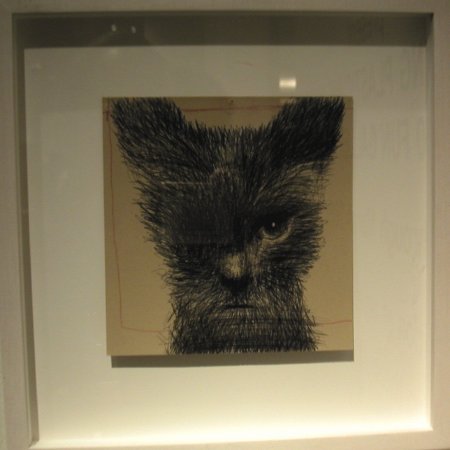 Bill Adams One Eye 2004
I had the same crowd and lighting problems with most of the other pieces, and a glass of wine in one hand was no small handicap. But without taking away anything from the other exhibitors I'll say that I thought the works in the display areas given to ATM Gallery, Foxy Production and Goff + Rosenthal (which represents Schmidberger, repsonsible for the drawing at the top) were especially impressive.
On our way home we looked at the store's 5th Avenue windows, where we stood in the 14 degree cold warmed by a wonderful Adam Cvijanovic mural featuring salvaged Vegas electrical signs strewn about a dry warm desert. Cvijanovic is shown by Bellwether gallery. On the other side of the entrance were several fine colorful Tyson Reeder works, which easily upstaged the clothes with which they shared the spotlight. Daniel Reich regularly shows Reeder in his more conventional space on 23rd Street (although it's still hard to associate the word "conventional" with Daniel Reich).
While it is certainly arguable whether this is a good way to show art, few of us would have a problem with the proposition that anyone who shops Bergdorf's and spends hundreds of dollars on one shirt should be told (reminded?) that some really good art can be carried home for about the same investment - and it will never wear out.