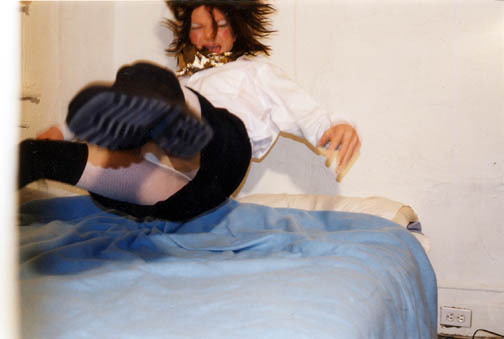 Joe Ovelman untitled (jump) 2002
Barry has a post which is a tribute to Joe Ovelman - and also to his D.C. gallery, Connor Contemporary, where his magnificent series, "Snow Queen" (or at least a large part of it) will be shown beginning this Friday.
The images above and below are earlier self-portraits, but Barry has included one of the Snow Queen images on his site. For five more, click onto the artist's name on Connor's site.
UPDATE:
Leigh Connor just sent me an email confirming that the entire series (18 works) will be shown in her gallery. She also refreshed my memory that Ovelman's modest epic was shot in the Cental Park Rambles. This serves as a timely reminder, during the week which sees $21 million of "The Gates" dismantled and hauled away, that art has never been a stranger in New York's noble greensward.




Joe Ovelman untitled (blue star) 2002
[images from Joe Ovelman]