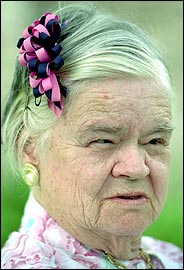 Opal Petty 1918-2005
She was 16 when her family had her committed to a mental hospital.

"Being fundamentalist Baptists her family didn't approve of her wanting to go out dancing and such things. A church exorcism didn't work, so the family made the decision to commit her."
The quote is from the director of the Texas Civil Rights Project, Jim Harrington, the man who fought successfully for
Opal Petty
's right to return to society after 51 years.
She died one week ago at the age of 86, damaged by an "institutional syndrome," but having lived nearly twenty years with people who loved and cared for her, and who were responsible for her resurrection.
Petty's story should strike a painful chord in the hearts of most girls and women, and certainly queers of any age, who as little children were chastised by their families, to any degree, for behaving inapproriately. Some of us make it through.
[1994 image by Larry Kolvoord/The Austin American-Statesman via the NYTimes]