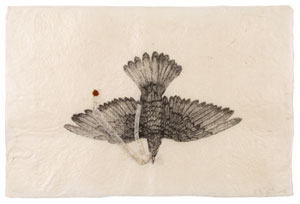 Kiki Smith edition in the 2004 raffle (we were very lucky last year)
I don't get around to plugging very much of anything, even when I have the best will to do so, but the Momenta Art benefit this Saturday is just too good a thing for everyone - impecunious patrons, emerging artists and the excellent and worthy non-profit gallery alike - to let pass this time.
We've just heard that the tickets haven't yet sold out. Don't let us buy more than our share; please help this excellent art get into more homes.
It's also a really good party.
Barry has already posted just about everything you need to know about it.