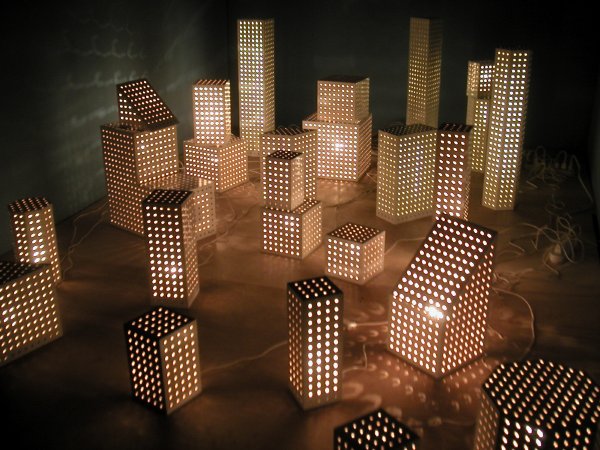 Tim Thyzel Dot Lights 2004-2005 26 pegboard and electrical light constructions, variable dimensions, installation view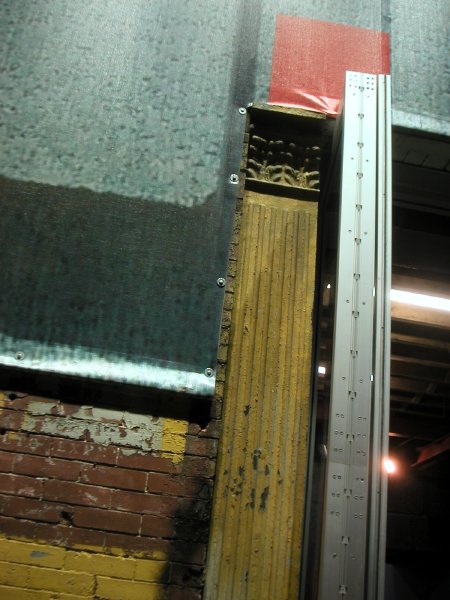 LOT-EK Cynthia Broan Gallery 2005 billboard-style facade with retained elements, detail
Cynthia Broan returned to Chelsea tonight, with a bang, after a two years' absence. Her beautiful new gallery on West 29th Street is a former garage which has transformed by the architectural firm LOT-EK into what appears to be the perfect gallery instrument, an exhibition space with moving walls and a billboard-style facade. Tonight we saw a clean blue box. Yes, the walls were painted a medium blue to set off more than a dozen of Tim Thyzel's minimal, mostly-white sculptural forms, assembled from ordinary commercial display materials.
From the press release:
Slots & Dots, sculptor Tim Thyzel's third solo show with the gallery, utilizes the slotwall and pegboard commonly seen in low-end retail stores to create a series of sculptures which reflect on formal aspects of art and architecture as well as issues of merchandising and consumer appeal. Also known as MDF (medium density fiberboard), slotwall accommodates hardware such as hooks and shelving for interchangeable retail display. Several of the works shown include these hooks to add both texture and context to the work. The crisp white laminate, punctuated with lines and holes, transcends its usual application to construct a series of towers and stacks, which are both elegant and humorous.