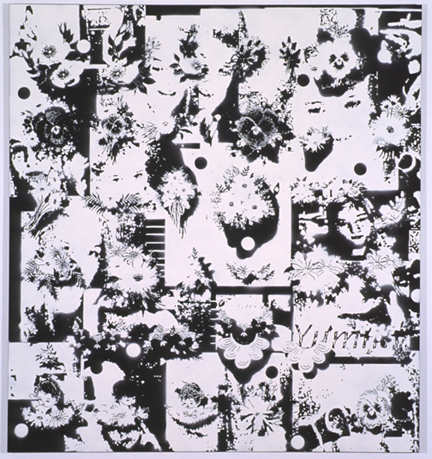 David Ratcliff Embroidery 2005 acrylic on canvas 72" x 66"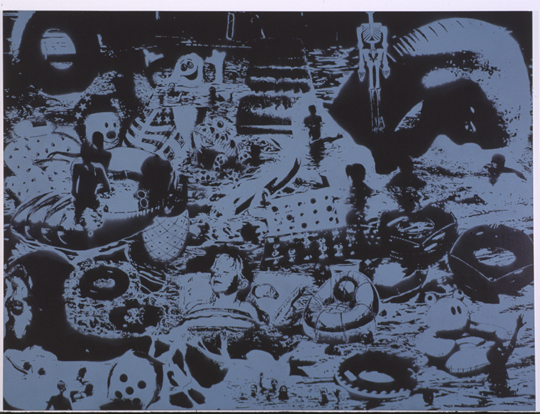 David Ratcliff Floatation 2005 acrylic on canvas 72" x 96"
The show was over even before we got home on Saturday after visiting it for the first time, so I can't blame my current indisposition for this belated encomium.
I thought David Ratcliff's recent show at team was absolutely beautiful, and I didn't even think of Warhol until someone else brought up the name.
I also had not yet had the advantage of information the gallery supplied about Ratcliff's inspirations and his process. From the press release:
David Ratcliff's first solo exhibition takes as its title a line from Bret Easton Ellis' novel American Psycho. Ratcliff's compendium paintings share with Ellis something of the elegant formal violence that seemed the only way to give voice to the decade that most relished acquisition for acquisition's sake. As a matter of fact, Walead Beshty, the artist and writer, has called Ratcliff's new works "1980's history paintings."

. . .

Ratcliff, like Ellis, is fond of lists, allowing the gathering together of signs to do the work of cultural critique. In a sense, the collecting together of material is as crucial as the manner in which it is deployed.
For his imagery Ratcliff builds his own stencil cartoons on his computer and then prints them onto paper which he cuts out and attaches to the surface of a black-painted canvas. He chooses a single vibrant color for each piece and sprays the surface. The wet paint destroys the stencil and leaves the edges of the images somewhat less than precise.
[images from team gallery]