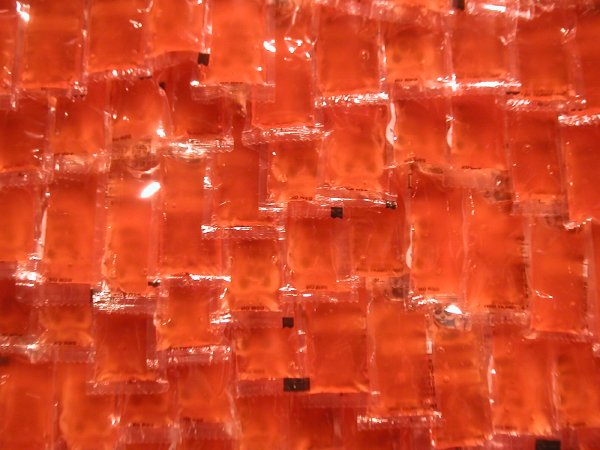 Dan Steinhilber Untitled 2003-2005 duck sauce, plastic 60" x 80" [detail]
It's a good thing. The art, for sure, but also it's a good thing that gallery shows which open in late June are often extended through much of the summer. Distracted by the heat and humidity of July in New York, I almost missed posting something about this one. Tyler Green has curated a beautiful exhibition at DCKT, a very cool show of cool minimal art by Rosana Castrillo Díaz, Augusto di Stefano, and Dan Steinhilber.
The curator's conceit is the manner in which the work of these young artists (and I don't think there's a single piece here which is over a year old) relates to an older generation of American minimalists - that is, absent the hard edges and right angles. A less ideological, more organic, even humanist minimalism?
Yes, Steinhilber's large work on the north wall is composed entirely of small packets of duck sauce, and it really glows. Nothing else in the room looks anything like it, even Steinhilber's other two pieces. The three artists' very individual aesthetics don't overlap even in this modest-sized space. They're all beautiful, and together a perfect fit.