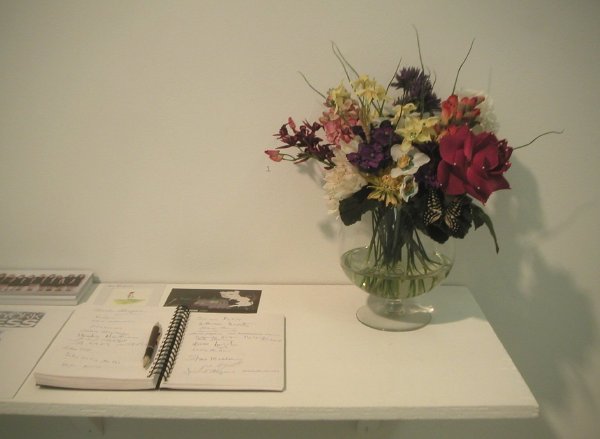 Aja Albertson If a birth flower falls in a forest, and no one is there to smell it, will it then grow a stone? 2005 silk flowers, faux gems, urethane, glass vase and butterfly approx. 12" x 12" [view of installation on gallery shelf]
The show is called "Something is Somewhere," and in the Monya Rowe Gallery's elaborate press statement the curators, Anat Egbi and Monya Rowe, explain a conceit which doesn't seem to be attached to the amusing image on the invitation (and the gallery site). The photo shows most of the participation artists lined up in front of a wall on either side of the two curators, every one of them dressed as the gallerist, in little black dresses and white neck scarfs. Yup, no guys.
I couldn't get anything into my camera's memory card which would do justice to the great pieces I saw in the gallery. A view of the shelf near the door will have to suffice for this post. This show, which includes work in the mediums of painting, photography, video, drawing, and sculpture, really has to be seen in person. The artists are Aja Albertson, Katia Bassanini, Larissa Bates, Amy Bennett, Jen DeNike, Angela Dufresne, Echo Eggebrecht, Adriana Farmiga, Sabrina Gschwandtner, Magalie Guerin, Elizabeth Huey, Ellen Lesperance & Jeanine Oleson, Caitlin Masley, Sigrid Sandstrom, Erika Somogyi, Frances Trombly, Whitney Van Nes, Abbey Williams and Sheri Warshauer.